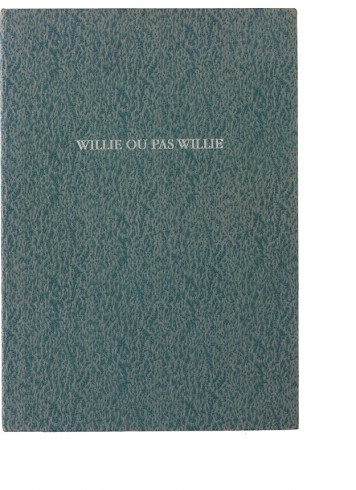 See pages
Text: Roberto Ohrt
Foreword: Fabrizio Bonachera
Coedition: Fabrique des Illusions - Oto House Publishing (Dirk Bakker & Jan Van Der Donk)
Year: 1997, Paris (Montreuil), New York, Amsterdam
Format: 20 x 29 cm
Number of pages: 64
Edition of 500
Special limited edition of 30 exemplaires, numérotés et signés
Willie ou Pas Willie
« The scientific principle of parity. The world and its reflection, one confused with the other for some reason... Because we do not have bilateral parity. While a photograph can compensate for the lack of hemispheric bilaterality; it is not the object, but its opposite, so that the photographic image would no longer be an image, but the true form. The inverse of an inverse»
Philip K. Dick
Willie ou pas Willie is named for an after-dinner game introduced by Sanguinetti during a dinner party in Montreuil that involved dividing the world into two categories, alluding, irreverently of course, to the dualist precepts : vs. matter; master/slave; Good vs. Evil… The publication leavens the capriciousness and absurdity of its divisive predicate by adopting several forms of juxtaposition, beginning with the montages of Bourgoin and, set on opposite pages, Ohrt's detourned comic strip, which adds "interpretative" text in "ironically poor French" to various cells appropriated from "a repackaged synopsis of the American film The American President" (dir. Rob Reiner, 1995). Most of the images are the result of experiments carried out in the darkroom by the artist, based on a series of lithographs on the spiral, brought together by Asger Jorn for publication in "Situationist Time". They transform the critical space into ambivalent universes and act as the interface of dissonances. The special edition contains copper type plates with images of furniture and living rooms from the 1930s, referring to the original place where "Willie or No Willie" was played. The plates are supplied with black, rectangular magnets so that different arrangements or edited "hangings" can be made; and the pages of the book with the photos have perforations based on the shape of each magnet. This interactive part of the edition gave birth a decade and a half later to the salon project where the magnets were replaced by original works and the images of the furnishings by trompe l'oeil salons. (cf. Bourgoin's edition, "True or False?")
As an introduction, a presentation by Fabrizio Bonachera is illustrated by a portrait of the artist by Julis Susin. The box of the special edition has been made by René Boré
It was printed on the presses of the Arte printing house in Paris in 1997.
.