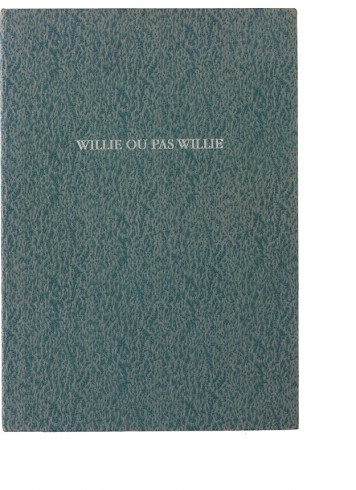 See pages
Text: Roberto Ohrt
Foreword: Fabrizio Bonachera
Coedition: Fabrique des Illusions - Oto House Publishing (Dirk Bakker & Jan Van Der Donk)
Year: 1997, Paris (Montreuil), New York, Amsterdam
Format: 20 x 29 cm
Number of pages: 64
Edition of 500
Special limited edition of 30 exemplaires, numérotés et signés
Willie ou Pas Willie
« The scientific principle of parity. The world and its reflection, one confused with the other for some reason... Because we do not have bilateral parity. While a photograph can compensate for the lack of hemispheric bilaterality; it is not the object, but its opposite, so that the photographic image would no longer be an image, but the true form. The inverse of an inverse»
Philip K. Dick
The name of this book is that of the game that consists in finding the trick that divides the world into two categories: that which is Willie, and that which is not. The game was first introduced by Gianfranco Sanguinetti over a gourmet dinner held in the artist's studio. The artist's photographs mix with a comic strip depicting a repackaged synopsis of the American film The President. The pronounced staging of the photographs meets the histrionics of the comic to create a disorienting effect on the reader. The images are the result of dark room experiments, made by the artist from a series of lithographic films originally meant to feature in the Situationnist Times. Special editions feature a copper typographic plate depicting furnished salons, with rectangular black removable magnets placed on top, so that one can create a supremacist arrangement in Salons. The pages of these editions are die-cut according to the different positions of the magnets.
1997, Première Fabrique des Illusions (Montreuil)
Text by Roberto Ohrt and Fabrizio Bonachera
On in-4 volume (30 x 21 cm), 60 pages, perfect-bound, with french flaps.
350 copies printed on Centaure paper at ARTE, Paris.
30 copies on Vélin d'Arches paper, die-cut, in a special clamshell box (33.5 x 22.5 cm) made by René Boré,with gold-foil stamped title and copper typographic plate (20 x 20 cm) with removable magnets. Portrait of the artist by Juli Susin.
All copies are signed by the artist and numbered from I to XXX in Roman numerals.