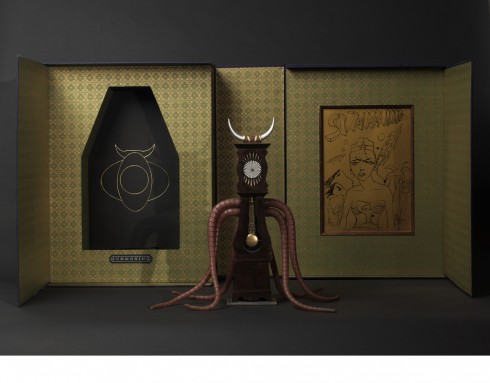 See pages
Publisher: Silverbridge
Year: 2009, Paris (Montreuil)
Format: 40x50x24 cm
Number of pages: 14
Edition of 22 copies, signed and numbered.
Summoning
«Time is the neuro-psychological structure we may have inherited from the distant past, along with other no-longer-needed organs like the appendix and the little toe, the saline concentration of our blood streams.»
J.G. Ballard
The origin of this publication is a grandfather clock found in the back of an old antique shop in Paris. Andy Hope 1930 transformed the clock into "Summoning". This sculpture was the centerpiece of his "Time Banners" exhibition at Nomadenoase, organized and produced in 2005 by Silverbridge. The book contains a meticulously rendered reduced-scale model of the "Summoning" sculpture. The interior of the case contains a framed original ink drawing by Andy Hope 1930, different for each copy. The preparatory sketches are collected in a notebook kept in a folder emblazoned with the "Summoning" logo. 
2009, Silverbridge/ by Juli Susin (Montreuil) 15 original drawings and multiples by Andy Hope 1930 Special case designed by René Boré, canvas-bound with large French flaps, gold-stamped title, with burnished interior on hand-made paper. Mahogany sculpture of "Summoning" by Jérémie Bonachera, electronic mechanism by Alain de Moyencourt, steel stand by Adam Steiner. One notebook (31.5 x 23.5 cm), 16 pages, stapled, in a canvas folder with gold-foil stamped title. All multiples, original drawings and notebooks are signed and numbered by the artist. Multiples are numbered and stamped on the base of the stand. Certificate of authenticity signed by artist and editor. 15 copies.