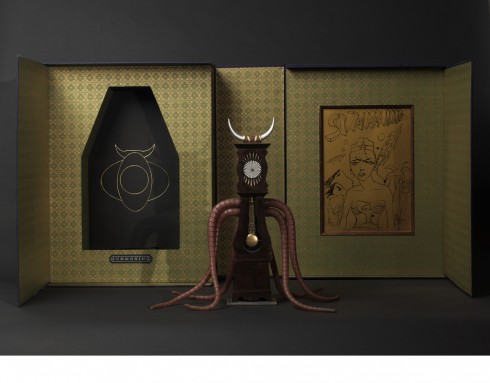 See pages
Publisher: Silverbridge
Year: 2009, Paris (Montreuil)
Format: 40x50x24 cm
Number of pages: 14
Edition of 15 copies, signed and numbered.
Summoning
"When I saw it fully built in Paris for the first time,
I had a feeling we were all going to become part of
its history […] This blending of metamorphosis and
transformation, of beauty and repulsion, where the
fascination with a 'monster' works not as an opposition
between Beauty and the Beast, but as a symbiosis."
—Andy Hope 1930
The book contains a small-scale replica of the
Summoning sculpture, made with great precision,
and placed in a box that evokes the interior of
an apartment lined with miniature fin de siècle
wallpapers. The clock was discovered in the back
of an old Parisian antique store and transformed
by Andy Hope 1930 into the hybrid creature
'Summoning' for the installation Time Banners,
produced and presented by Silverbridge (Royal Book
Lodge), at the Nomadenoase Gallery, Paris, in 2005.
The inside flap of the box contains, under a frame,
an original drawing in Indian ink on gold paper,
made by Andy Hope 1930, different for each copy.
Preparatory sketches are gathered into a notebook
inside a folder decorated with a Summoning logo.
2009, Silverbridge (Montreuil)
15 original drawings and multiples by Andy Hope 1930
Special case designed by René Boré, canvas-bound with large French flaps, gold-stamped title, with burnished interior on hand-made paper.
Mahogany sculpture of "Summoning" by Jérémie Bonachera, electronic mechanism by Alain de Moyencourt, steel stand by Adam Steiner.
One notebook (31.5 x 23.5 cm), 16 pages, stapled, in a canvas folder with gold-foil stamped title.
All multiples, original drawings and notebooks are signed and numbered by the artist.
Multiples are numbered and stamped on the base of the stand.
Certificate of authenticity signed by artist and editor.
15 copies was made.