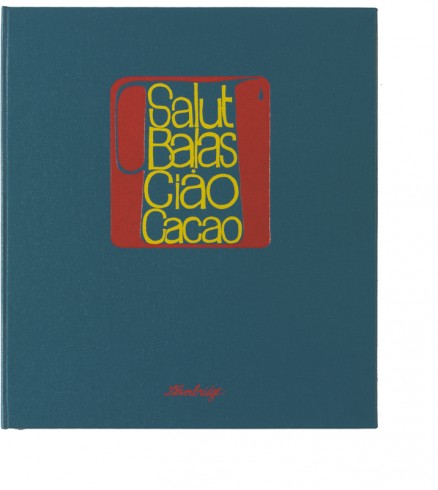 See pages
Text: Armin Krämer
Foreword: Juli Susin
Year: 2004, Paris (Montreuil)
Format: 25 x 30 cm
Number of pages: 56
Edition of 160
Salut Balas * Ciao Cacao
Dans le cas que nous venons de mentionner, la clé réside dans le fait qu'ils ont trouvé un système commun d'organisation, un même dénominateur pour l'image, l'ornement et l'écriture, et ensuite que le lieu de cette convergence a été de nouveau la surface même de la page du livre.
Otto Pächt
This work recounts the legend of Galerant, a restaurant-cum-gallery project. As a procession of figures and situations advances, one realizes that the protagonists are the artists themselves, and their friend Torsten the chef. The reader is ushered into a carnival of exuberance, preceded by the Russian philosophical tale Balas, which greets the reader in the style of a children's book, a playmate. The text and cover illustration are handwritten by Kai Althoff. Each artist created a series of eight drawings for this edition. The flyleaf features the "Siki Balas Erledich" stamp by Dorota Jurczak.
2004, Silverbridge/by Juli Susin (Montreuil). Text by Armin Krämer. One in-4 volume (25.5 x 23 cm), 56 pages, perfect-bound, with canvas cover, gold-foil stamped title, cardboard case in salmon-colored cloth, one page with original artist intervention.