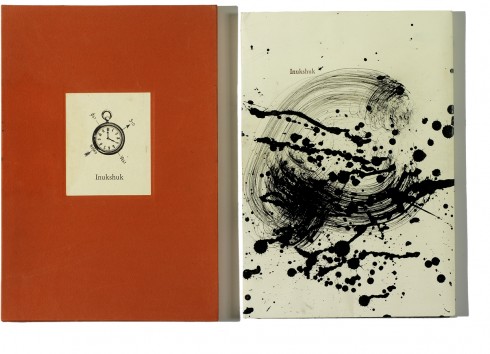 See pages
Text: Juli Susin
Publisher: Fabrique des Illusions
Year: 1987 - 1997, Paris (Montreuil)
Format: 20 x 29 cm
Number of pages: 96
Edition of 42
Inukshuk
"We can't thaw the world by multiplying our vistas."
Maurice Merleau-Ponty
Inukshuk is a place that is handled like a book bound by the layers of different investigations. This publication features 32 original drawings made using a technique created by the artist and inspired by the rubbing technique used in archeology to expose fragments of relief designs. This project was first used to inventory post-industrial urban fragments, but soon took on new dimensions. The elements of the printing apparatus built for this process were decomposed and recomposed by hand during the printing process, in an attempt to generate dysfunction and seismic slippage in the final material imprint.
A poem hides in plain sight, spliced into what seem like captions to the photographs documenting a number of creative encounters with Eastern European smugglers and vagabonds met fortuitously by the artists during a stay in Warsawska Praga in 1989. Their daily lives, filled with artifacts and concrete poetry, as well as the historians' debate over whether or not Inukshuks can be considered works of art, fuelled the artist's reflection on the origin of Ready-made and the part that the cultural industry have played in defusing their subversive power.
1997, Fabrique des Illusions (Warsaw)
Text, 40 photographs and 32 drawings by Juli Susin
One in-4 edition measuring 29 x 30 cm, 96 pages, perfect-bound, with illustrated cover and French flaps, on salmon-colored laminated paper.
Embossing of volcano on Heritage Atlantis Paper
Photos and text printed with offset on BFK Rives, Annam, for ARTE, Paris.
Original rubbings on Dutch tracing paper.
42 copies, signed and numbered by the artist.