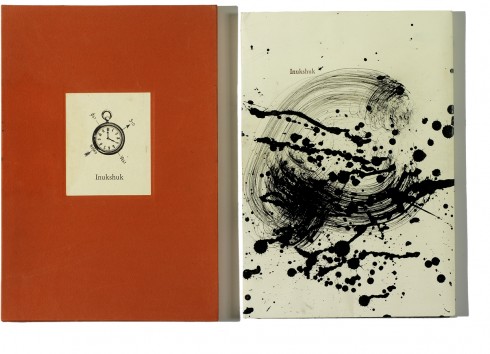 See pages
Text: Juli Susin
Publisher: Fabrique des Illusions
Year: 1987 - 1997, Paris (Montreuil)
Format: 20 x 29 cm
Number of pages: 96
Edition of 42
Inukshuk
The book contains 32 original drawings made using a technique created by the artist, inspired by the method of relief surveys used in archaeology. The elements of the printing device and the hand rubbing, introduce by a sliding of the matrices, alterations and accidents during the process. The title Inukshuk, in Inuktitut – "Standing Man" is a name given by the Eskimos to the buildings of piled stones, which, emerging from the snow, evoke from afar a human being. As a caption to the photographic illustrations, the text describes artifacts produced by smugglers in Warsawska Praga, (Poland, 1989), and refers to the debates surrounding the attribution of "Art" status to the Inukshuk and to reflections on the origin of the Ready-made.
1997, Fabrique des Illusions (Montreuil)
Text, 40 photographs and 32 drawings by Juli Susin. A volume in-4 (29 x 20 cm) of 96 pages, stapled, under cover illustrated with a drawing has the ink of India folded on Héritage Atlantis, a dry stamp where appears an image of volcano, cardboard case salmon with label against stuck. Text and photographs in offset on BFK Rives, Annam, at Arte, Paris. Original rubbings on Dutch tracing paper. 42 copies, numbered and signed.