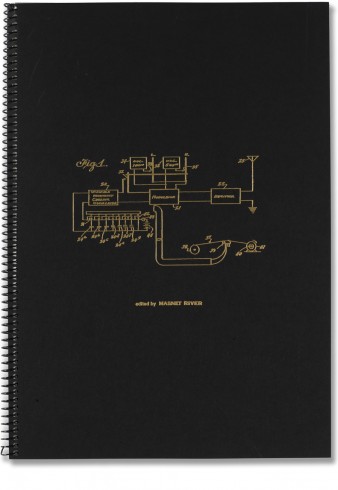 See pages
Publisher: Magnet River
Year: 2016, Paris (Montreuil)
Format: 21 x 29,7 cm
Number of pages: 210
Edition of 60 copies
PCM-12M
This book is based on an existing technical guide for
modifying radio frequencies. The present iteration
involves an "active re-reading" of the guide, with the
addition of 98 photographs by Juli Susin. Images
are spliced together with diagrams and instructions
for wave receivers and have no premeditated
relationship, acting like radio interference from a
distant place and time. The reader can make their
own interpretations and is free to treat these photos,
graphics and texts like anonymous archives found
in the drawers of an abandoned research center.
The cover features an illustration used by the actress
Hedy Lamarr's patent for her invention, "Spread
Spectrum by Frequency Hopping", the origin of
today's Wi-Fi technology. An eponymous video
IKM-12M was made by Susin in dialogue with
the book.
2016, Magnet River (Montreuil)
One in-4 volume, 21 × 30 cm, 210 pages, hardback with spiral binding, gold inlay
by Atelier Martial. 60 copies, xerography on 80 gram Cyclus offset, numbered
and signed by the artist..