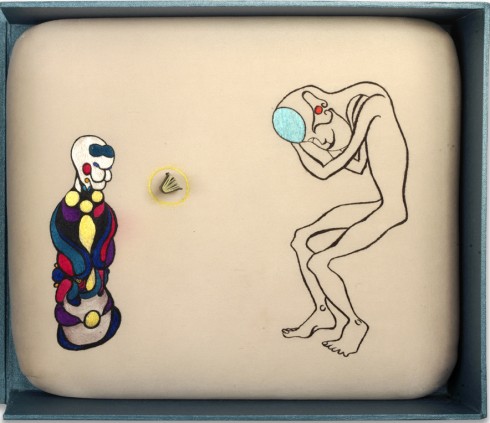 See pages
Artists: Sara Glaxia
Publisher: Royal Book Lodge
Year: 2015, Paris (Montreuil)
Format: 1 x 2 cm
Number of pages: 50
Edition of 24 copies numbered and signed
Special limited edition of 4 exemplaires numérotés et signés
Serpentine Illusions
The work now features sixty ink
drawings and autobiographical poems. The special
edition contains an embroidery by Frédérique Petit,
inspired by a Glaxia d Two copies of head in a box
canvas (30 x 35 cm), incorporating an embroidery
by Frederique Petit made from the drawings of the
artist. The title is calligraphed by artist..
2015, Royal Book Lodge (Montreuil)
An in-12 volume (1 x 2 cm) of 60 pages, in full calf binding, by Annick Bienvenu.
Edition of 24 copies, signed, in a case, numbered and signed, in a 26 x 20 cm
canvas box, with a plastic pattern in the central cartridge.
.
.
.