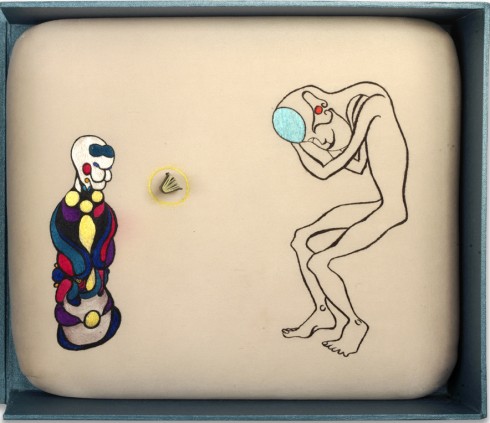 See pages
Artists: Sara Glaxia
Publisher: Royal Book Lodge
Year: 2015, Paris (Montreuil)
Format: 1 x 2 cm
Number of pages: 50
Edition of 24 copies numbered and signed
Special limited edition of 4 exemplaires numérotés et signés
Serpentine Illusions
«The significations of "The Nymph" seem bound to the menace of sacrificing unbridled mysteries to the conformity of the bourgeois home and the rationalism of productivity.»
Aby Warburg
This is the second collaboration between Sara Glaxia and Juli Susin after their 2005 installation Fixed Explosion on the 15th floor of the Ibis hotel in Montreuil. At that time, the total volume of the rooms occupied by Juli Susin and Raymond Pettibon was entirely obscured by a "fixed explosion" of newspapers soaked in ink and bourbon. Ten years later, when the idea of a second collaboration was brought up, the editor decided to make the centrifugal force of the 'fixed explosion' into a thimble-sized one. It was at this point that the artist, mastering transformations and magical acts like a familiar ritual, pulled the 1 x 2 cm blank booklet that was to become Serpentine Illusions out of her pocket. The work now features sixty ink drawings and autobiographical poems. The head edition contains an embroidery by Frédérique Petit, inspired by a Glaxia drawing.
22015 Royal Book Lodge (Montreuil)
One in-12 volume (1 x 2 cm), 60 pages, calfskin binding by Annick Bienvenu, handwritten title by Sara Glaxia.
22 copies, with custom canvas-bound box (20 x 26 cm), central cartridge with plastic motif.
2 head editions with canvas bound box including embroidery by Frédérique Petit using the artist's drawings.
All copies signed and numbered.