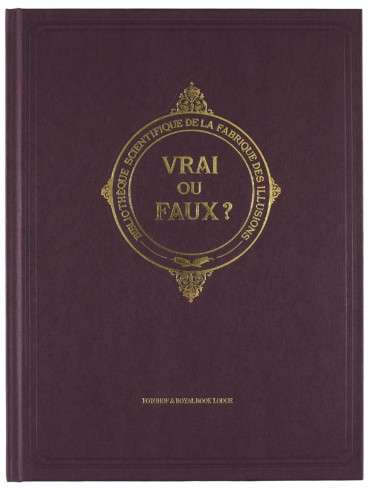 See pages
Text: Ursula Panhans-Bühler - Interview par Bernard Marcadé
Publisher: Trilingue Anglais - Français - Allemand
Coedition: Fotohof & Royal Book Lodge
Year: 2013, Salzbourg & Paris (Montreuil)
Format: Act I 21 x 28 cm, Couverture dure - Act II 32 x 47 cm, Couverture souple.
Number of pages: Act I 194 - Act II 60
Edition of 1 500 copies.
Special limited edition of 99 exemplaires numérotés et signés.
Vrai ou Faux ? Act I
2013, Royal Book Lodge & Fotohof (Montreuil, Salzburg)
Text by Ursula Panhans-Bühler, interview by Bernard Marcadé
with Véronique Bourgoin, bilingual (English, French). One
volume (21 x 28 cm) hardcover, printed in gold, offset printing
Rema print (Vienna, Austria), 194 pages, 1,500 copies
The first volume questions the construction of "contemporary paradises", the effects of loss as they manifest themselves through spaces dominated by historical desire and the introspection of our time. "True or False? act I documents the installations created between 2010 and 2013, in Hamburg, Vienna and Rotterdam, by Véronique Bourgoin, using the artist's and publisher's own house/workshop as a starting point, which has generated numerous encounters and collaborations. At the same time, with 17 years of distance, these installations literally and figuratively develop the artist's book "Willie ou pas Willie" revealing in real size, the images engraved on copper plates of furnished Salons, creating a trompe l'oeil effect in which magnets have given way to works of art. These salons, which reproduce on a scale of 1:1 private rooms or documents from the collections of the Nederlands Fotomuseum, showcase the works of artists and archives resulting from collaborations within the Royal Book Lodge or Fabrique des Illusions.
The book was printed at Rema Print, in Vienna (Austria).
Act I with works by:  Julia Abstädt, Antoine d'Agata, Reza Azard, Bachelot Caron, Véronique Bourgoin, Linda Bilda, Fredi Casco, Joan Fontcuberta, Alberto Garcia Alix, Gelatin, Sara Glaxia, Gudny Gudmundsdóttir, Les Hole Garden, Alison Jackson, Adolfo Kaminsky, Erik Kessels, Martin Kippenberger, Paul Kooiker, Lutz Krüger, Jérôme Lefdup, Anne Lefebvre, Jean-Louis Leibovitch, Jochen Lempert, Boris Mikhailov, Judith Rohrmoser, Hank Schmidt in der Beek, Juli Susin, Bastiaan Van der Velden, Les Yes Men. From the collection Royal Book Lodge : Dick Bengtsson, matali crasset, Guy E. Debord, Andy Hope 1930, Daniel Johnston, Dorota Jurczak, Charlet Kugel, Jonathan Meese, Raymond Pettibon, Ralph Rumney, Storwal, Miroslav Tichy and SMACKS by Fabienne Radi published by Boabooks.
In the form of a daily newspaper diverted from 'Le Monde", the second volume investigates the consequences and effects of the judgment between truth and lie and reflects on the "deaf violence" that is at the heart of our contemporary societies, hidden behind the iconography and references produced by the official "fantasy". "True or False" act II, presents the archives of the Atelier Reflexe – which brings together an iconography drawn from current events around True and False – and a selection of photographs taken by the participants in the workshops it has conducted as well as views of exhibitions held between 2010 and 2013 in several European countries.
Act II with the archives from the Atelier Reflexe and Works by: Milou Abel, Begüm Alaybeyoglu, Maria Aya, Julian Baron, Flore Baudelot, Manuela Böhme, Kaspars Breidaks, Sophie Carlier, Inga Erdmane, Faustine Ferhmin, Bernhard Füreder, Josquin GF, Rodrigo Gomez Reina, Evita Goze, German Gutiérrez, Nicolas Haro F. Cordoba, Mona Hermann, Charlotte Hjorth-Rohde, Yanis Houssen, Kumral Kepkep, Janis Klimanovs, Dimitris Koromilas, Valérie Loron, Chryssoula Mamoglou, Christopher Mavric, Efthimis Mouratidis, Tomas Murube, Bjargey Olafsdottir, Christina Papafragou, Constantin Paschou, Sophie Pölzl, Phila Primus, Thanassis Raptis, Marjolijn Rijks, Birgit Rinagl, Ilke Sahin, Marie-Hélène Sauner, Sandra Schmalz, Markus Sigl, Judith Stehlik, Jeanne Susin, Elif Temizer, Thomas Thomell, Sarah Toumayan, Çaglar Tozluoglu, Gamze Tozun, Esra Ural, Annegien van Doorn, Yedras Vargas, Margot Wallard, Nicole Weniger, Lee Wing Ki, Hakan Yasar, Elif Yilmaz, Antoinette Zwirchmayr et invités : Tato Olivas, Man by Men, Ivo Kocherscheidt, Joseph Zekoff and  SMACKS by Fabienne Radi published by 2011.
A special edition, made in 99 copies, contains the two volumes and their copies in a boxed set. The book was designed and produced by Véronique Bourgoin and Royal Book Lodge.
Interview of Véronique Bourgoin by Bernard Marcadé and a text by Ursula Panhans-Bühler