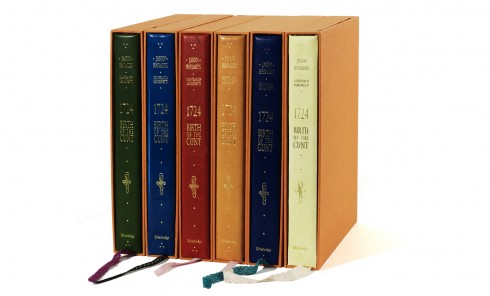 See pages
Text: Gianfranco Sanguinetti
Publisher: Silverbridge
Year: 2004, Paris (Montreuil)
Format: 26,5 x 34,5 cm
Number of pages: 132
Edition of 172 copies, numbered and signed
Special limited edition of 4 exemplaires
1724
"In the beginning was the Word. And then men found synonyms."
Gianfranco Sanguinetti
1724 American synonyms for the word vulva are compiled in this book by Jason Rhoades. What was originally intended to be an accompanying catalogue to Rhoades' installation "My Medinah", at the H&W Gallery in Saint Galen, Switzerland, in 2004, finally became a noble book: the synonyms are printed in relief for tactile reading with fingers, using a concept of Juli Susin's. The preface by former Situationnist Gianfranco Sanguinetti shows proposition how censorship came along with economists holding sex hostage. The last pages of the book contain a glossary of the synonyms translated into German, along with a photographic reproduction of Immanuel Kant's skull. 4 head editions were specially bound in the shape of pillows and featured in the artist's installation. 1724 Birth of the Cunt was produced in collaboration with Jason Rhoades and the Hauser & Wirth Gallery. 
2004, Silverbridge (Montreuil-Lose Angeles)
Introduction by Gianfranco Sanguinetti One in-4 volume (34.5 x 26.5 cm),
One in-4 volume (34.5 x 26.5 cm), 132 pages, perfect-bound, cover with French flaps and a screenprint by Les Demons, calfskin slipcase with 7-color print, gilding by Lewis & Fils, custom protective box, suspender strap bookmark.
The 172 copies are printed BY Lewis & Fils using the Dot Matrix Two Narrow font on polymer gilded plates, on Dossier Bull paper. Cover lettering by Alex Heil, German translation by… synonym index edited by Roberto Ohrt. 4 first editions, specially bound by René Boré. All editions are numbered and signed by Jason Rhoades.
The work was produced in collaboration with Jason Rhoades and Hauser & Wirth gallery.