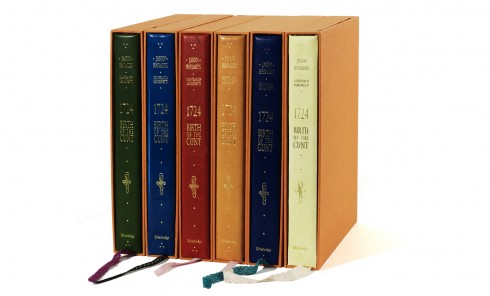 See pages
Text: Gianfranco Sanguinetti
Publisher: Silverbridge
Year: 2004, Paris (Montreuil)
Format: 26,5 x 34,5 cm
Number of pages: 132
Edition of 172 copies, numbered and signed
Special limited edition of 4 exemplaires
1724
The edition, produced in collaboration with the
Hauser & Wirth gallery, brings together, in the form
of a glossary, 1,724 American synonyms for the word
vulva, listed by Jason Rhoades, demonstrating a
series of contradictions between linguistic continuity
and vernacular spread,patriarchal censure and
misogyny of the feminine sex organ, and various
levels of religious and economic exploitation.
In the introductory text, the former situationist
Gianfranco Sanguinetti tells how the 'Censure' under
various disguises, follow the hostage-taking of the
feminine sex organ by the economy. Designed as
a « noble » book with tactile reading by Juli Susin,
this edition was made to accompany the Jason
Rhoades' installation «My Medinah » at the H&W
gallery, (Saint Galen, Suisse), in 2004. The 4 special
editions made with a cushion-shaped binding, were
incorporated into the installation by the artist. The
last section of the book contains a photographic
reproduction of Emmanuel Kant's skull. 
2004, Silverbridge (Montreuil - Los Angeles).
Introduction by Gianfranco Sanguinetti. One in-4 (34,5 x 26,5 cm) 132 pages, softcover, flap cover illustrated with a screen print by les
Démons, calfskin cover printed in seven colors, gilding by Lewis & Fils, cardboard case, garter bookmark. The 172 copies, numbered
and signed, printed in Dot Matrix Two Narrow typeface, from polymer gilded plates, on Dossier Bull paper, Lewis & fils, title lettering
by Axel Heil. The German translation of the synonyms was made in the edition by Roberto Ohrt. Special edition of 4 copies, with
special binding, created by René Boré.The work was produced in collaboration with Jason Rhoades and the Hauser & Wirth gallery.
.