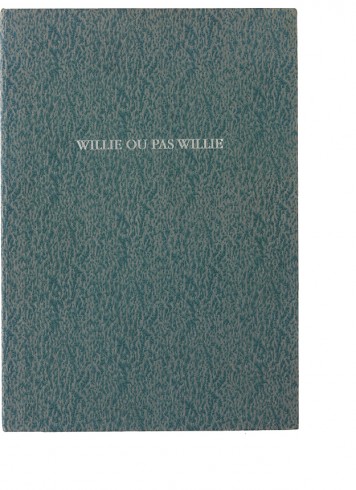 See pages
Text: Roberto Ohrt
Foreword: Fabrizio Bonachera
Coedition: Fabrique des Illusions - Otto Hause Publishing
Year: 1997, Paris
Format: 20 x 29 cm
Number of pages: 64
Edition of 500
Special limited edition of 30 exemplaires, numérotés et signés
Willie ou Pas Willie
« Trust adjusts her »Peradventure« - Phantoms entered »and not you."
Emily Dickinson
A work inspired by a game whose aim is to divide the world into two categories: things that are Willie and things that are not. Parallel to the photographs is a comic strip modified by Roberto Ohrt that complements the story. The artist is introduced in the preface by Fabrizio Bonachera and also with a photographic portrait by M. Suzuki.
A special edition of 30 copies, printed on Arches Expression, include an original photograph by Véronique Bourgoin. Each edition also comes with an individual magnetic typographic copper plate visualizing an interior of a bourgeois home. On these plates mobile magnets form an adjustable exhibition. Corresponding to the magnets several pages of the book are perforated according to the shape and initial position of the magnets. The edition is placed in a box made by René Boré. Co-edited by Otto House Publishing and printed at Arte in Paris in 1997.
Year: 1997, Montreuil-sous-Bois