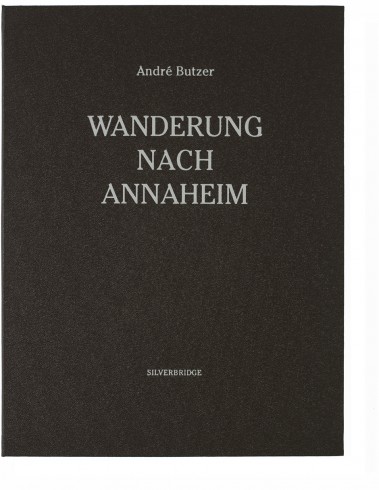 See pages
Text: André Butzer
Year: 2001, Paris (Montreuil)
Format: 21 x 29 cm
Number of pages: 32
Edition of 120
Special limited edition of 12
Wanderung nach Annaheim
Anaheim is a suburban town south of Los Angeles, founded in 1857 by 50 German families. This peculiar commune first built its economy around grape cultivation. When a sudden insect invasion wiped out their source of livelihood, the residents of Anaheim reoriented their economy toward the production of electronics and airplane parts. Numerous theme parks, like Disneyland resort, later established the town's lasting reputation. Haunted by technological mutation and the animation giants of Disney, Anaheim is the starting point of this oeuvre by André Butzer. His expressive drawings skewer the entertainment industry and reveal the forgotten collusions between leisure and totalitarianism. The heideggerian-souding title is a reminder of the philosopher's fondness for travel-related metaphors.The book was produced for the first exhibition of
Butzer's work at the Machin-Mode Gallery in Berlin.  
2001, Silverbridge (Montreuil)
Text by André Butzer
One in-4 volume (30 x 22.5 cm), 36 pages, perfect-bound with canvas cover, gold-foil title.
36 lithographic prints on Lana ancient pure chiffon at ARTE, Paris.
120 copies numbered and signed by the artist.
12 copies feature original drawings by the artist.