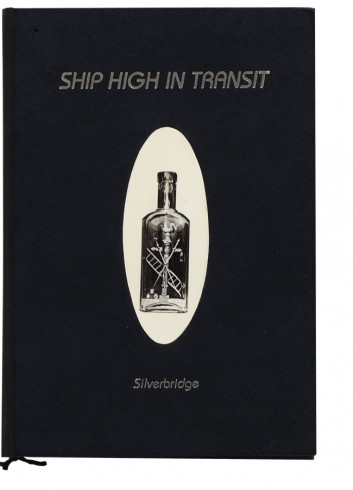 See pages
Year: 2008, Paris (Montreuil)
Format: 16 x 11 cm
Edition of de 500 exemplaires
Special limited edition of 20 exemplaires, numérotés et signés
Ship High in Transit
This edition brings together a series of Polaroids
featuring Bourgoin's group of performers, The Hole
Garden. Three women, half-clones, half-avatars,
half-goddesses, wander around with a cosmonaut,
like nocturnal apparitions in search of the force
of gravity in the suburban areas of Montreuil. On
the cover is a bottle containing the plans for the
transformation of a pavilion into a time capsule.
Twenty copies are bound in a passport-sized
midnight blue leather jacket, opening in three flaps,
each presenting an original Polaroid signed by
the artist with the printed notebook in the center.
The binding and gilding were done by the Martial
workshops in Paris. There is also a video of this
project, shot in Mini DV .  
2008, Siverbridge (Montreuil)
A volume (16 x 11 cm), with a soft central notebook bound in a flap
cover with 3 original polaroids, collage on cover, special edition of 20
copies, numbered and signed. Stapled softbound notebook, edition
of 500 copies, printed on Horizon presses (Marseille).