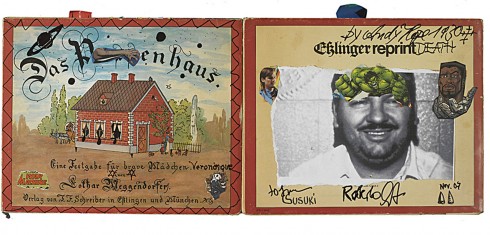 See pages
Publisher: Silverbridge
Year: 2004 – 2011, Paris (Montreuil)
Format: 20 x 29 x 85 cm
Edition of 15
Penhaus
"You could say that all of my paintings are frankenpaintings, in the sense that you might think them dead,
but they end up being alive." —Andy Hope 1930
This edition is an imaginary model of a house in
Montreuil, "16 rue du Ruisseau", where the artist had
stayed in October 2007, to prepare the exhibition
"Sweet Troubled Souls". The pop-up book from the
50's, a three-dimensional house planned for a "model
girl", made as a birthday present for Véronique
Bourgoin, is transformed into an unpredictable
labyrinth without borders crossed by disturbing
experiences, populated by surrealist creatures.
2007–2011, Silverbridge (Montreuil)
15 original collages by Andy Hope 1930. A pop-up (21,5 × 26 cm), accordion bound.
15 copies, numbered and signed, with a special publisher's slipcase (24 × 28 cm),
title and vignette in gilding, label with silkscreen printing.