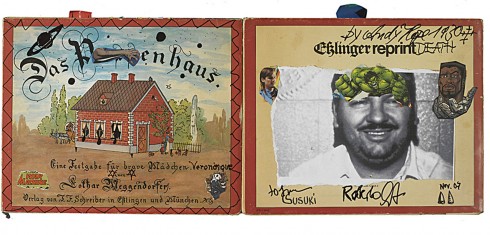 See pages
Publisher: Silverbridge
Year: 2004 – 2011, Paris (Montreuil)
Format: 20 x 29 x 85 cm
Edition of 15
Penhaus
« You could say that all of my paintings are franken-paintings, in the sense that you might think them dead, but they end up being alive.»
William Burroughs
The book takes the form of an original collage made by Andy Hope 1930 in 2007 for Véronique Bourgoin's birthday in Montreuil, next day after presentation of exhibition Suite Troubled Souls. For this exhibition, 13 paintings of Andy Hope 1930 picturing portraits of Hollywood actresses have been presented in a private appartment. The space has been transformed into a ghost house by the publisher. The book picks up one of the exhibition's themes and is the final result of an children's pop-up book transformation, where concrete pedagogical intelligence collides with a moment in middle class domestic life. The residents and initial elements of this apartment designed for an ideal little girl are reworked and diverted by Andy Hope 1930. With collages cut from comic books, the artist reveals the dark side of this idyllic universe, transforming it into a morbid landscape inhabited by unsettling chimeras, where elegant contours and colors bridge the two worlds.
2007-2011, Silverbridge (Montreuil).
15 original collages by Andy Hope 1930.
One pop-up (21,5 x 26 cm), accordion bound.
15 copies with a special box by the editor (24 x 28 cm), canvas-bound, with gold-foil stamped title and screen-printed label.
Each copy is signed and numbered by the artist.