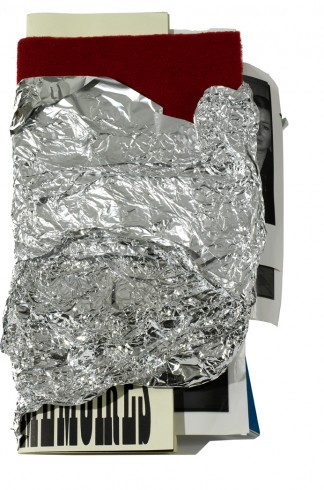 See pages
Text: Roberto Ohrt
Year: 2005, Paris, Reykjavík
Format: 43 x 26 cm
Number of pages: 48
Edition of 8 exemplaires
Mémoires
"Well, I think the museums that exist today
are totally repressive." —Jason Rhoades
On the occasion of the performance-installation
"Sheep Plug" by Jason Rhoades at the opening of the
exhibition "Dionysiac" (Centre Georges-Pompidou,
2015 ), the edition made by Jason Rhoades and Paul
McCarthy, (an extended facsimile of Guy Debord's
book Mémoire, in the form of a wine menu), was
covered with aluminum foil by artists from Royal
Book Lodge disguised as a White Monkey. The
edition is augmented with photographs documenting
the performance and a monkey mask.
2005, Silverbridge (Paris), for special edition.
Regular edition: Hauser & Wirth (St Gallen). Volume
(40 x 29 cm), 62 pages, under aluminum paper cover.
Special edition of 8 copies, numbered and signed.