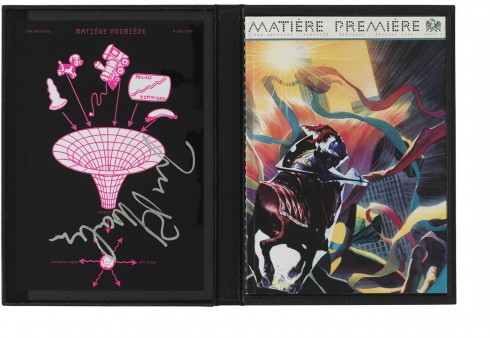 See pages
Text: Juli Susin, Gianfranco Sanguinetti, Roberto Ohrt
Redaction: Juli Susin, Roberto Ohrt
Artistic director: Charlet Kugel
Artists: André Butzer, Andy Hope 1930, Jason Rhoades, Axel Heil, Birgit Megerle, Wirasamy, Charlet Kugel, Fabian Schubert, Frank Lutz, Gilles Lacombe, Grems Supermicro, Jackusine, Jonathan Meese, Lutz Kruger, Nadira Hussein, Nicolas Delbard, Raymond Pettibon, Roberto Ohrt, Tex, Véronique Bourgoin, Juli Susin
Foreword: Juli Susin
Publisher: Silverbridge
Year: 2005, Paris (Montreuil)
Format: 21 x 28 cm
Number of pages: 142
Edition of 1 000 exemplaires
Special limited edition of 60 exemplaires numérotés et signés
Matière première
The magazine was created to document the events
and activities of Silverbridge (Royal Book Lodge). It
was presented on the occasion of the exhibition "The
Five" by Jason Rhoades and Paul McCarthy, in the
Nomadenoase gallery, installed in rue des 3 portes in
Paris, in March 2005, conceived as a "tunnel" linking
the installation to Jason Rhoades' exhibition for
"Dionysiac" at the Centre George Pompidou. The
review gathers contributions from artists such as:
Raymond Pettibon, André Butzer, Brigitte Megerle,
Nadira Hussein, Andy Hope 1930, Véronique
Bourgoin, Jonathan Meese, Charlet Kugel, Nadira
Hussein, Gianfranco Sanguinetti, Jason Rhoades,
Grems, Clément Lavedant and Cédric Bouvard,
Juli Susin. The special edition contains an original
silkscreen by Jason Rhoades on polymer made for
this edition. The layout was done by Grems, Tex and
Virasssamy with a cover collage by Andy Hope 1930.
2005, Silverbridge (Paris-Montreuil).
Texts by Juli Susin, Gianfranco Sanguinetti, Roberto Ohrt. Editorial Juli Susin.
One volume in-4 (27 x 19,5 cm) of 148 pages, stapled, 1000 copies in four colors.
Special edition, 60 copies, numbered, with an original silkscreen by Jason Rhoades
on polymer, numbered and signed by the artist, in a special box (27 x 19,5 cm)
with gold gilding.