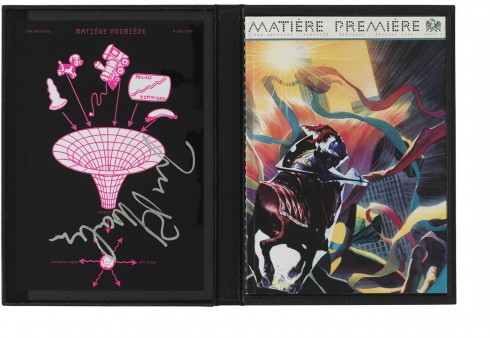 See pages
Text: Juli Susin, Gianfranco Sanguinetti, Roberto Ohrt
Redaction: Juli Susin, Roberto Ohrt
Artistic director: Charlet Kugel
Artists: André Butzer, Andy Hope 1930, Jason Rhoades, Axel Heil, Birgit Megerle, Wirasamy, Charlet Kugel, Fabian Schubert, Frank Lutz, Gilles Lacombe, Grems Supermicro, Jackusine, Jonathan Meese, Lutz Kruger, Nadira Hussein, Nicolas Delbard, Raymond Pettibon, Roberto Ohrt, Tex, Véronique Bourgoin, Juli Susin
Foreword: Juli Susin
Publisher: Silverbridge
Year: 2005, Paris (Montreuil)
Format: 21 x 28 cm
Number of pages: 142
Edition of 1 000 exemplaires
Special limited edition of 60 exemplaires numérotés et signés
Matière première
"What exactly is an oasis in the desert? It is not the desert, but I think that yes, we could actually say that a desert is an oasis."
Marcel Broodthaers
This single-issue journal was created to document the different events organized and produced by Silverbridge. Its aim was to offer their network of artist friends some support as well as the possibility of creating independ collective projects, thanks to the following tools: an art book publishing house, and an art collection as a living history of these projects. It was made and presented at the Jason Rhoades' and Paul McCarthy's exhibition "Les Cinq" (The Five) in March 2005 at Nomadenoase in Paris. This presentation was conceived as a kind of tunnel, bridging the installation and the 'Dionysiaque' project from the centre Georges Pompidou. It brings together contributions from artists such as Raymond Pettibon, André Butzer, Brigitte Megerle, Nadira Hussein, Andy Hope 1930, Véronique Bourgoin, Clément Lavedant, CédricVirassamy, and Jonathan Meese.
2005, Silverbridge (Paris-Montreuil)
Edited by Juli Susin.
Texts by Juli Susin, Gianfranco Sanguinetti, Roberto Ohrt.
One in-4 volume (27 x 19.5 cm), 148 pages, softcover, 1000 multi-color copies.
60 copies with a screenprint on polymer by Jason Rhoades, all numbered and signed, in a special canvas-bound clamshell box (27 x 19.5 cm), with gold foil stamping.
Layout by Grems Supermicro, Tex and Cedrique Bouvard
Cover by Andy Hope 1930.