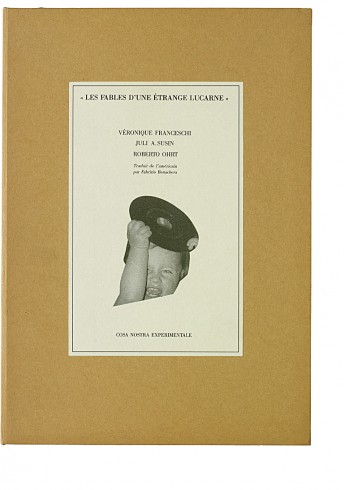 See pages
Text: Roberto Ohrt
Publisher: Cosa Nostra Experimentale
Year: 1994, Paris (Montreuil)
Format: 21 x 29,5 cm
Number of pages: 26
Special limited edition of 30 exemplaires
Les Fables d'une Etrange Lucarne
1995, Cosa Nostra Experimentale (Paris)
Text by Roberto Ohrt. An in-8 volume (23 x 15 cm) of 24 pages, printed
by Nory, stapled, in a cover with flaps. Special box (29 x 29,5 cm) covered
with Japanese paper, with label. Under a jacket diverted from the guarantee
booklets of a famous French brand of household appliances. Each box
contains a glass plate, photograph on emulsion and collage numbered and
signed by artists. 30 copies, numbered and signed.
The memory of a conversation between the artists in
the dining car of the train "Dvořák" Prague-Berlin,
inspired an imaginary discussion between Faust and
Mephisto. This dialogue is related to photographic
images and drawings by Juli Susin and Véronique
Bourgoin, printed in a notebook. Opposite is a
photograph developed on a glass plate using the
liquid silver emulsion process, assembled with
another photograph or drawing. The superposition
by transparency of the two images creates a disorder
and opens a new reading space.