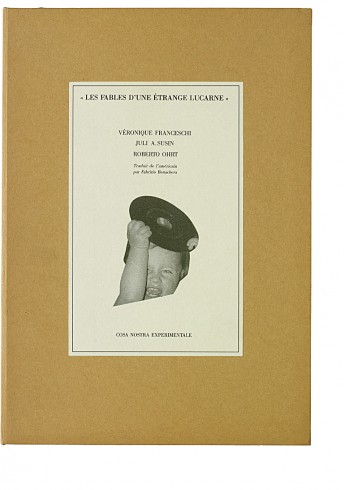 See pages
Text: Roberto Ohrt
Publisher: Cosa Nostra Experimentale
Year: 1994, Paris (Montreuil)
Format: 21 x 29,5 cm
Number of pages: 26
Special limited edition of 30 exemplaires
Les Fables d'une Etrange Lucarne
« Let's go and meet these people. Just to talk a bit. About metaphysics, for example.»
Ray Bradbury
The memory of a conversation between artists and historian in the dining car of the "Dvorak" train from Prague to Berlin is the basis of this imaginary discussion between Faust and Mephisto. Juxtaposed with the dialogue are photographs by Juli Susin and Veronique Bourgoin. Facing the book is a glass plaque with a montage of the artists' photographs, fixed with Liquid Light like the obscured screen of a skylight.
1995, Cosa Nostra Experimentale (Paris).
Text by Roberto Ohrt.
One in-8 volume (23 x 15 cm), 24 pages, printed on Nory presses, stapled, with French flaps.
Clamshell box bound with Japanese paper and label.
Inside the clamshell box is a notebook, printed in offset, bound in altered warranty forms from a famous French brand of electrical goods. Each box is numbered and signed by the artists, and contains a pane of glass with a photo collage.