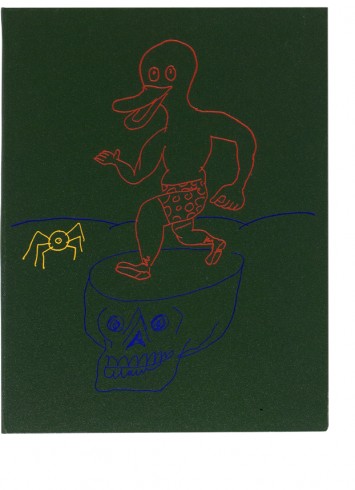 See pages
Coedition: Royal Book Lodge - Frédéric Déjean
Year: 2011, Paris (Montreuil)
Format: 21 x 29 cm
Number of pages: 28
Special limited edition of 66 exemplaires, numérotés et signés
I've come a long way just to see you
A screen-printed book of Daniel Johnston's
drawings put into play some of his favorite themes—
superheroes fighting evil embodied by hordes of
freaks, voluptuous temptresses, and Satan himself.
This unflinchingly dualistic mythology betrays an
obsessional knowledge of Christian, historical and
pop culture references of the schizophrenic American
way of life that Johnston seems to observe as an
eternal outsider.
2011, Royal Book Lodge (Montreuil), co-edited with Frédéric Déjean.
One in-4 volume (30 x 22,5 cm), 36 pages, perfect-bound, with canvas-bound hardcover,
title and illustration in gold-foil by Martial, Paris. 36 lithographic prints on Lana ancien
pur chiffon, at Orbis Pictus Club. 66 copies, signed and numbered by the artist.
.