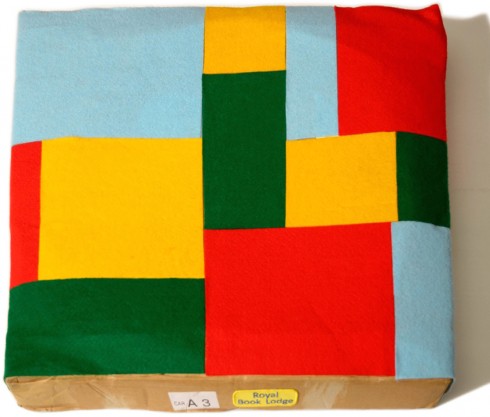 See pages
Artists: Véronique Bourgoin
Year: 2016
Edition of 12 exemplaires , 3 exemplaires pour l'édition spéciale par Juli Susin
Tableau périodique des éléments usuels
 2015–2016, Royal Book Lodge, (Montreuil)
Metal box (21 x 32cm) silkscreen, leather menu holder (16 x 20cm), 100 Fiches (15 x 18cm), folded
poster (74 x 48cm), glass tube containing crystallized water (20x3cm). 12 copies, numbered and signed
by Véronique Bourgoin.
3 special copies designed Juli Susin, including the original edition expanded with 1 bobbin of barbed wire (60x60cm), 2 folded posters (80x60cm) signed, 1 signboard (20,5x29cm), 1 pair of construction gloves with original stamps, cardboard packaging (52 x 55 cm), covered with a collage of colored felt pieces and an application of "Royal Book Lodge" fabric.