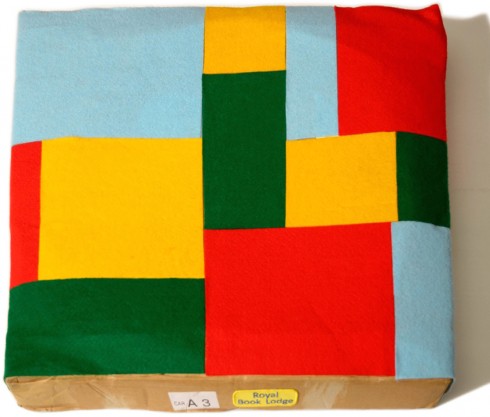 See pages
Artists: Véronique Bourgoin, special edition by Juli Susin/ édition speciale par Juli Susin
Year: 2016
Edition of Véronique Bourgoin, Royal Book Lodge for special edition
Tableau périodique des éléments usuels
The Periodic Table of Usual Elements provides an indicative example of the elements which alter the metabolism of the living in our daily life. One hundred cards, gathered in pantone range are from a search conducted by the artist on Google in autumn 2015 with specific keywords. The context of each source image, be it a Chanel advertisement, desertification views or Fukushima, an apple display in Walmart hypermarkets … disappears in a zoom, a sampling of the image, until you get a monochrome in which still vibrates the trace of the source image. Back portraits, which are the top 20 for Forbes in the fall of 2015, appear alternately monochrome. Each of the cards is associated with the corresponding chemical or physical formula, or the mathematical value, determined by the element which alters the metabolism of the living.
The original menu has 20 sheets in plastic pouches, interchangeable with 80 other cards, separately assembled.
A folded poster, illustrating, in the form of "Mendeleev's Table", a cartography of the world economy. It decrypts and lists the 100 cards by associating them with the logo of the company, chosen according to the context of the source image.
A barcode printed on the proof, gives access to the evolutionary site of this edition: a page presents this poster where each of the 100 boxes of the table, activates, over time, to an Instagram, movie or image, made by the artist; another page allows you to consult the source images used to develop this menu.
A glass test tube contains crystallized water after disturbance.
The set is presented in a silkscreened metal box on the cover.
The special edition of 3 copies, designed and produced by Juli Susin (Royal Book Lodge) presents in a reel of barbed wire, the original edition, accompanied by 2 posters that reflect the slogans situationists in their current context, a sign and a pair of construction gloves. Everything is contained in the original packing box with flat cover, an original collage in colored felt.
2015/2016, published by the artist, Montreuil.
In a clam shell mettalic box (32×21 cm):
100 cards with images (18×15 cm)
1 menu card (20×16 cm),
1 folded poster with the «Tableau périodique des éléments usuels» (48×74 cm) inspired by Mendeleïev
1 glass tube containing crystal water (3×20 cm).
First edition of only 12, signed and numbered copies.
Special edition designed by Juli Susin, Royal Book Lodge (Montreuil) of 3 copies in a cardboard box (55×52 cm) with the original edition and:
1 spool of barbed wire (60×60 cm)
2 posters (80×60 cm), signed
1 signboard (20,5×29 cm)
1 pair of construction gloves