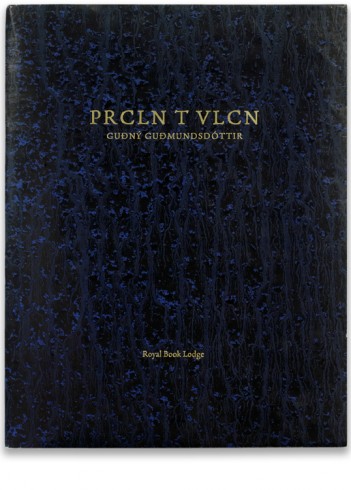 See pages
Artists: Gudny Gudmundsdóttir
Photos by: Juli Susin
Publisher: Royal Book Lodge
Year: 2015, Paris (Montreuil)
Format: 33 x 26 cm
Edition of 18 copies numbered and signed
PRCLN T VLCN
«By God, if I ever cracked, I'd try to make the world crack with me. Listen! The world only exists through your apprehension of it, and so it's much better to say that it's not you that's cracked -- it's the Grand Canyon.»
Scott Fitzgerald
This work presents a series of five original rayograms by Juli Susin, obtained by the direct impression of Guðný Guðmunsdóttir's drawings onto the sensitive surface of photographic paper. In the drawings, diaphanous feminine figures evolve in dresses that double as photographic equipment. Drawn lines emerge in negative on the photographic paper like X-rays of invisible fissures, simultaneously advancing toward the viewer and retreating into infinite space. This documentary process is not unlike the one used to photograph ectoplasms at the turn of the last century.
2015, Royal Book Lodge (Iceland, Reykjavik)
5 Original rayograms on Slawa photographic paper, printed on black marbled paper.
One in-4 (33 x 26) book, 16 pages, paperback, title in gold.
18 copies, all numbered and signed by the artists.