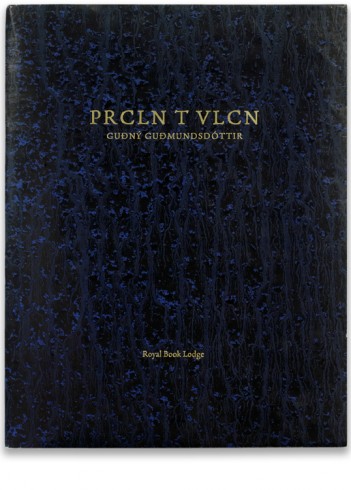 See pages
Artists: Gudny Gudmundsdóttir
Photos by: Juli Susin
Publisher: Royal Book Lodge
Year: 2015, Paris (Montreuil)
Format: 33 x 26 cm
Edition of 18 copies numbered and signed
PRCLN T VLCN
The book contains a suite of five original rayograms
by Juli Susin, obtained by contacting a selection of
Guðný Guðmunsdóttir's drawings on photographic
paper. The images show female figures dressed in old
dresses, transformed into optical mechanisms with
camera bellows. The outline of the drawings appears
in negative in the emulsion as a kind of X-ray of
invisible cracks, bringing them closer to the viewer
while receding infinitely the black space around the
figures. This process of photosensitive revelation of
almost invisible drawn lines is reminiscent of the
photographs of ectoplasms from the beginning of the
last century..
2015, Royal Book Lodge (Island, Reykjavik).
Five original rayograms on Slawa silver paper laid down on black marbled paper, and a
silkscreen printed at Demons (Montreuil) Handmade cover paper made in 1920, title in
gilt. A volume in-4 (33 x 26 cm) stapled, under cover, title in gilt. Edition of 18 copies,
numbered and signed.
.