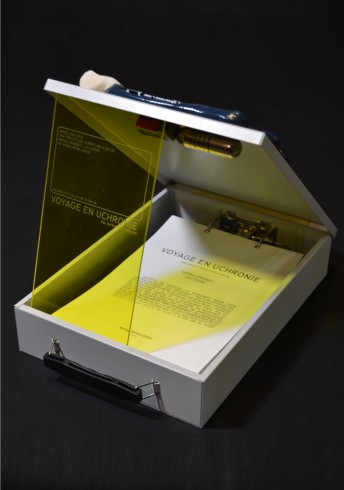 See pages
Artists: matali crasset et Juli Susin
Publisher: Royal Book Lodge
Year: 2015, Paris (Montreuil)
Number of pages: 154
Edition of 12 copies numbered and signed
Voyage en Uchronie
This book-object follow-up to an eponymous film
made in 2013 by the artists, is built around the
staging of props including: colored capes, reflectors,
created by crasset and others such as ceramic objects,
airplane, sardine stand created by Susin and Rublow.
These elements are the object of rituals that emerge
when a primitive culture comes into contact with
more technologically advanced civilizations. The
edition is presented in a "black box" metal case,
containing documents and exhibits used in the
making of the film, as well as photographs from the
film and an original prop created by Matali Crasset,
used during the filming.
2015, Royal Book Lodge (Montreuil)
154 pages printed in xerography, 6 photographic prints maintained by an archival file mechanism,
in a grey metal box with handle, silk-screened title, with a laboratory glove and a hard disk on the
cover, containing a piece of yellow Plexiglas and the accessory of the film: a cardboard paper cape
created by Matali Crasset. 12 copies, numbered and signed by both artists
.
.