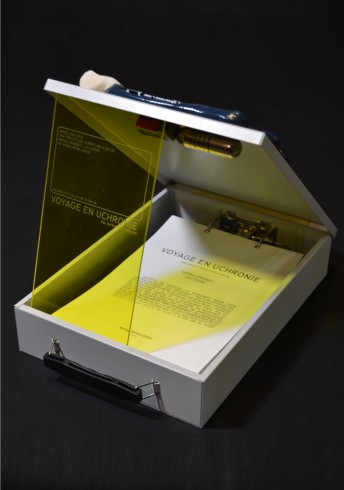 See pages
Artists: matali crasset et Juli Susin
Publisher: Royal Book Lodge
Year: 2015, Paris (Montreuil)
Number of pages: 154
Edition of 12 copies numbered and signed
Voyage en Uchronie
«I know of districts in which the young men prostrate themselves before books and kiss their pages in a barbarous manner, but they do not know how to decipher a single letter.»
Jorge Luis Borges
This book-object was the follow up to a 2013 film of the same name, wherein the artists' actions were determined by the arrangement of different accessories, including colorful capes, reflectors, a ceramic hand, a plane, and a sardine-drying rack into different configurations. This edition is presented with technological flair like a black box, and contains documents and objects used in the project's elaboration, as well as stills from the film and an original prop by matali crasset used during filming.
2015, Royal Book Lodge (Montreuil)
154 xeroxed pages, 6 photographic prints held in place by an archival binder in a grey metal box with handle and screen-printed title. A laboratory glove and hard drive are affixed to the lid.
12 copies contain a piece of yellow Plexiglas and a construction paper cape by matali crasset used in the film.
All editions are numbered and signed by the artists.