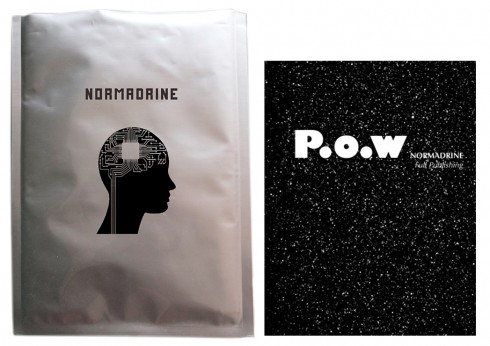 See pages
Artistic director: Véronique Bourgoin
Artists: Véronique Bourgoin, Julien Leslé
Publisher: Royal Book Lodge
Year: 2014, Paris (Montreuil)
Edition of 500 copies
Special limited edition of 50 exemplaires numérotés et signés.
Normadrine
This edition is a follow up to Véronique Bourgoin and Julien Leslé's film Normadrine, shot in super 8 between 2003 and 2007 and finalized in 2013 with the premiere at the Brady cinema in Paris.
In the film Bourgoin questions the production from the 1990s of micro-electromechanical systems, sensors or robots
programmed to detect environmental variables: light, temperature, vibrations, magnetism, presence of chemicals. A mylar sleeve contains the English and French versions of the recorded film, together with the original screenplay written in 2003 in the form of a "Cadavre Exquis" by Véronique Bourgoin and Julien Leslé, the original poster produced for the Premiere, a silver photograph, and a P.O.W. booklet designed by Véronique Bourgoin in the manner of the photo novels of the 1950s.
2014, Royal Book Lodge (Montreuil)
Mylar envelope (25 x 35 cm), screen printed by Les Démons, containing a booklet
(20 x 26 cm) 76 pages offset printed by Stippa, 1 poster (86 x 122 cm) signed and
numbered, 1 silver photograph (20 x 30 cm) signed and numbered from 1 to 7, 1 sheet
( 21 x 29,7 cm) printed in xerography, films (27'44'') two subtitled versions (English,
French) recorded on a silk-screen key and on a private link. Edition of 50 copies signed
and numbered by the authors. A volume (20 x 26 cm) printed separately P.O.W in 300.