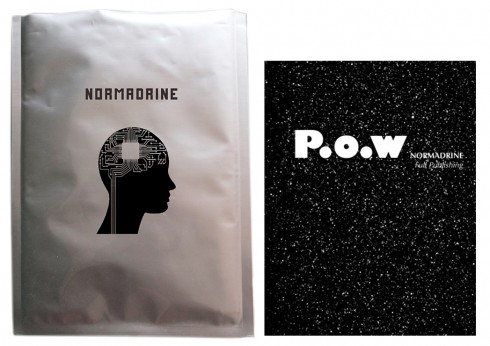 See pages
Artistic director: Véronique Bourgoin
Artists: Véronique Bourgoin, Julien Leslé
Publisher: Royal Book Lodge
Year: 2014, Paris (Montreuil)
Edition of 500 copies
Special limited edition of 50 exemplaires numérotés et signés.
Normadrine
«Geometry, which has always been the highest human aspiration, is the key to our modernity. With its inflexible and infinite laws, it excludes all the arbitrariness of creative fantasy. It is the common point of all modern civilization and the axis of our daily activity.»
Lucio Fontana
This pubication of the film by Bourgoin and Leslé between 2003 and 2010, reflect Bourgoin's research into the development, beginning in the 1990s, of miniature microelectromechanical systems (MEMS) that might include sensors or robots programmed to detect one or more ambient variables such as light, temperature, vibration, magnetism, or the presence of chemicals. The postwar architecture of Montreuil and adjacent suburbs forms a key part of the dystopian program of film Normadrine which interrogates how standards or conditions of normality are constituted, distributed, and enforced.
Limited to 50 copies this edition designed by Véronique Bourgoin with Julien Leslé presents the film Normadrine on a silkscreen key with a poster, a photo novel, a facsimile of the script and an original photograph. The whole is put in a mylar envelope silk-screened by the Demons, signed by the authors and numbered from 1 to 50.
The P.O.W booklet designed by Véronique Bourgoin, in the form of a "Roman Photo" based on the images from the film and the dialogues. The last booklet gathers articles collected in the scientific news, the year of the booklet's realization (2014). It was printed in 300 copies, 50 of which are stamped for the special edition. This booklet was executed by Eva Houzard.