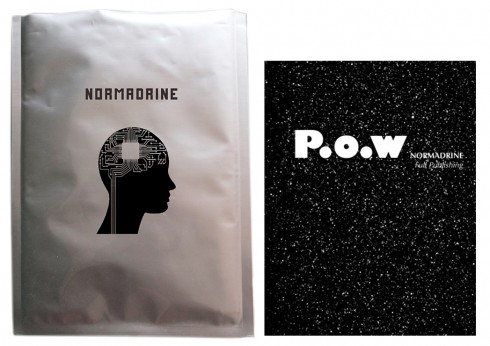 See pages
Artistic director: Véronique Bourgoin
Artists: Véronique Bourgoin, Julien Leslé
Publisher: Royal Book Lodge
Year: 2014, Paris (Montreuil)
Edition of 500 copies
Special limited edition of 50 exemplaires numérotés et signés.
Normadrine
This edition contains a copy of the film Normadrine
(2003–2010) accompanied by the original screenplay
written in 2003 in the form of an exquisite corpse
by Véronique Bourgoin and Julien Leslé. In the film
Bourgoin questions the production from the 1990s of
micro-electromechanical systems, sensors or robots
programmed to detect environmental variables:
light, temperature, vibrations, magnetism, presence
of chemicals. The edition is accompanied by the
poster made for the premiere of the film (Cinéma le
Brady, Paris, 2013), a silver photograph, and a science
fiction photo novel, P.O.W, in the style of the 1950s,
directed by Véronique Bourgoin.
2014, Royal Book Lodge (Montreuil)
Mylar envelope (25 x 35 cm), screen printed by Les Démons, containing a booklet
(20 x 26 cm) 76 pages offset printed by Stippa, 1 poster (86 x 122 cm) signed and
numbered, 1 silver photograph (20 x 30 cm) signed and numbered from 1 to 7, 1 sheet
( 21 x 29,7 cm) printed in xerography, films (27'44'') two subtitled versions (English,
French) recorded on a silk-screen key and on a private link. Edition of 50 copies signed
and numbered by the authors. A volume (20 x 26 cm) printed separately P.O.W in 300.