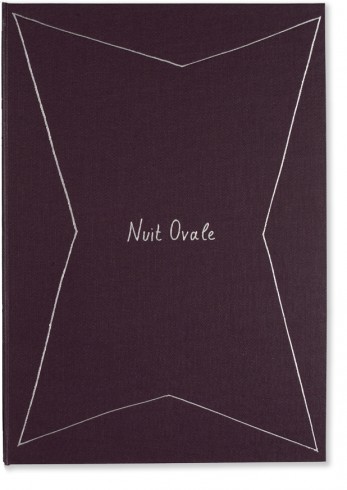 See pages
Coedition: Royal Book Lodge / Julia Rublow
Year: 2012, Paris (Montreuil)
Number of pages: 52
Edition of 69 exemplaires tous signés et numérotés
Nuit Ovale
« Turning his back to the window of his office, he saw her head turn 180 degrees, a smile still on her face. At this very moment, he regretted not having looked closer at the scene; she was cutting the chicken. » (Juli Susin) 
Juli Susin
This book, conceived of as an anonymous photo album, deals with the idea of tracking in its original and photographic sense : by looking back on these sly, more or less staged photographs, one realizes that new information is revealed. The camera adapts its sensor and focus to provide precise information, but cannot give a guarantee of reality at the borderline of dimly-lit psychological events, even when the subjects are the artist's loved ones. Could these be anomalies arising from the transformation of biographical elements into a personal mythology? It's as if in the irregular congealing of a photographic negative, something had been dislodged, a hidden motor set off like an unseen waterfall. Risograph printing and a neutral layout keep the images from being too exact of replicas, and express an additional refusal to glue photography to reality by the deliberate construction of references.
2012, Royal Book Lodge (Montreuil)
One in-4 volume (30 x 21 cm), 36 pages, perfect-bound with canvas cover, gold-leaf title on patterned cloth. Risography by Après Midi Lab, Paris.
60 copies, all numbered and signed.