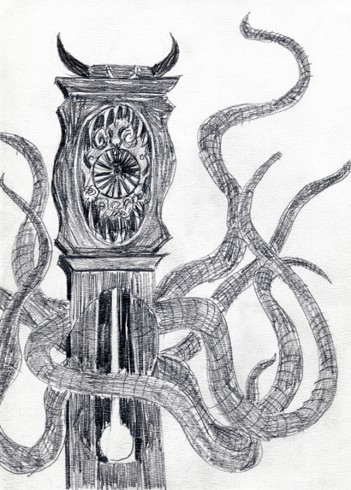 Summoning
Summoning, created by Andy Hope 1930, is composed as a grandfather clock with tentacles placed in a silver room. On one of the walls hangs a painting by the artist, portraying a sea monster swallowing a boat. The swinging pendulum and the kinetic lighting mechanism of the clock are synchronized with a recorded voice that repeats: "Time is a one way street…". The entrance of the room has a curtain featuring a sign designed by Andy Hope 1930.
The sculpture was presented at the exhibition 'Time Banners', part of the installation of the Galerie Nomadenoase organized by Juli Susin/Silverbridge in Paris, 3 rue de Trois Portes, in 2004-2005, and produced by Yasha Gofman.
In 2009 the 'Summoning' installation was used again by Andy Hope 1930 and Juli Susin in the form of an artist's book with the same title. The book contains a miniature replica of the clock, an original drawing by Andy Hope 1930 and a comic with preliminary sketches, also by the artist. For this occasion we created a serie of photographs featuring "Summoning".
Paris, March 2005