For roughly thirty years, through various countries and meetings, we have built a space for collaborations which has often changed name and label, just like its risky geography in evolution. One day we have refocused our experiments into a more defined project: to give to friends and artists of this informal network, ways to realize independent projects and to offer a publishing house as an artistic tool. Royal Book Lodge gathers the results of this attempt and presents artists' list of books as well as fragments of a collection which has built itself in the course of these collaborations.
 Selected Chronology from 2000:
2000 – The Leaning Tower of Venice, artist book with Ralph Rumney, Manosque/Montreuil.
2001- Wanderung nach Anaheim, artist book with André Butzer, Montreuil.
2002- The Machine, by Juli Susin, with Jonathan Meese and Anna Parkina, Berlin.
2003- Salut Ballas, Ciao Cacao, artist book with Kai Althoff, Dorota Jurczak, Abel Auer,
Armin Krämer, Paris
- Effondrement du E-Commerce, groupe présentation in Anna Parkina appartement, with:
Jason Rhoades, Otto Muhl, Raymond Pettibon, Paul McCarthy, André Butzer, Jonathan Meese,
Michael Riedel, Charlet Kugel, Abel Auer, Birgitte Megerle.
- Par ici la sortie, artist magazine with Anna Parkina, Paris
- La musique avec et sans meubles, with Franz West, Vienna.
- Oskar von Muller Strasse 16, artist book with Michael Riedel, Dennis Loesch,
Niklas Schechinger, Hank Schmidt in der Beek
- Applause, work in progress with Raymond Pettibon, Los Angeles.
2004 – 1724, artist book with Jason Rhoades and Gianfranco Sanguinetti, in collaboration with Hauser&Wirth, Los Angeles/Montreuil
- Galerie Nomadenoase, installation, 3 rue de Trois Portes, Paris, (by Marion Mayer)
- Opening group exhibition with Raymond Pettibon, Véronique Bourgoin, André Butzer, Andy Hope 1930, Lutz Krüger, Birgit Megerle, Francis Picabia, Charlet Kugel, Sara Glaxia etc, Galerie Nomadenoase, Paris.
2005 – Summoning, installation with Andy Hope 1930, Galerie Nomadenoase, Paris/Los Angeles,
- Nomadenoase Transcontinental, by Silverbridge, with Jason Rhoades and other artists, Los Angeles/Miami
- Ciaocilla, group exhibition by Silverbridge, with Jason Rhoades, Nomadenoase Trascontinental, Mexico City
- Les 5, installation of Shit Plug with Jason Roadhes and Paul McCarthy, Galerie Nomadenoase, Paris
- Matière Première, revue by Juli Susin, with all participant artists, Paris
- Mémoires (special edition), with Jason Rhoades, exhibition Dionysiac, Beaubourg, Paris
2006 – Cross and Stone, for Inna and Anatoli Susin, Steglitz cemetery, Berlin
- Dr. Keramik, Jonathan Meese & Charlet Kugel, Maison de Jorn, Albisola, Italy.
2007- Sweet Trouble Souls, Andy Hope 1930, with Hauser & Wirth, Paris
- Monreuil, Dr. No, artist book with Jonathan Meese by Juli Susin
- Los Angeles, Tin Time Trace, book installation, Los Angeles
- The Room of Fulfilled Dreams, by Juli Susin, Monreuil/Steglitz, Berlin.
2008 – Predator, film by Hekla Dogg Jonsdottir with Juli Susin with, Island / Berlin
2009 – Summoning, artist book with Andy Hope 1930, Paris
- Hinten den Hugeln, artist book with Andy Hope 1930, Paris / Berlin
- Keramik Fog, Juli Susin and Jonathan Meese, with Veronique Bourgoin and Gudny Godmunsdottir, orgenise by Maya , by Jean Claude Binoch, Paris
- Brouillard de Céramique, film by Juli Susin, Albisola / Paris
- Penhaus, artist book with Andy Hope 1930, Paris
2011 – Les Formes du Vrai – Miroslav Tichy, by Gianfranco Sanguinetti, Prague
- Mysterious Cruise, by Juli Susin, with matali crasset, Birgit Megerle, Gudny Gudmundsdottir, Beate Günther, Véronique Bourgoin, Anne Lefebvre, Abel Auer, galerie Sophie Scheidecker, Paris
- I've come a long way just to see you, artist book with Daniel Johnston, Paris
- Time is Out, Angel Yegros, Asuncion, Paraguay
- Musée-jardin Ernan Pacetti, group exhibition, Albisola, Italy
2012 – Nuit Ovale, Juli Susin, – artist book co-published with Julia Rublow, Paris
- La vie dans la maison, artist book Juli Susin with Lucia Sotnikova, Berlin
2013 – Voyage en Uchronie, Juli Susin, film with Matali Crasset in collaboration with Julia Rublow
- Grillage Underground, film Juli Susin, Julia Rublow. Actor : with Gamlet Zinkowski.
Garage Center Moscow
- Vrai ou Faux, installation with collection of Royal Book Lodge, by Véronique Bourgoin,
Nederlands Fotomuseum, Rotterdam
- Magnet River, by Juli Susin installation in Niemeyer Museum with André Butzer, Andy Hope 1930, Juli Susin, Vernique Bourgoin, Jonathan Meese, biennial de Curitiba, Brasil
2014 – Violent Noon/Juli Susin, with Capitan Pinturas, Acunsuion, Fondation Miglarisi, Paraguay
- Le secret de Bororo, by Juli Susin with Capitan Pinturas and Raisa Aid, Paraguay
- Salon Cosmos, with collection of Royal Book Lodge, by Véronique Bourgoin,
116, Montreuil-sous-Bois
2015 – Chute d'eau hors-champ, Juli Susin with Véronique Bourgoin, Fotohof, Salzburg, Autriche.
- Serpentine Illusions, artist book with Sara Glaxia, Montreuil.
- Prcln t Vlcn, artist book with Gudny Gudmundsdottir, Montreuil/Berlin.
- Voyage en Uchronie, artist book with matali crasser, Montreuil.
- Chaco, with the Juli Susin film Magnet River, La Paz, Bolivia.
2016 – artiste book, IKM – 12M, by Juli Susin, Montreuil.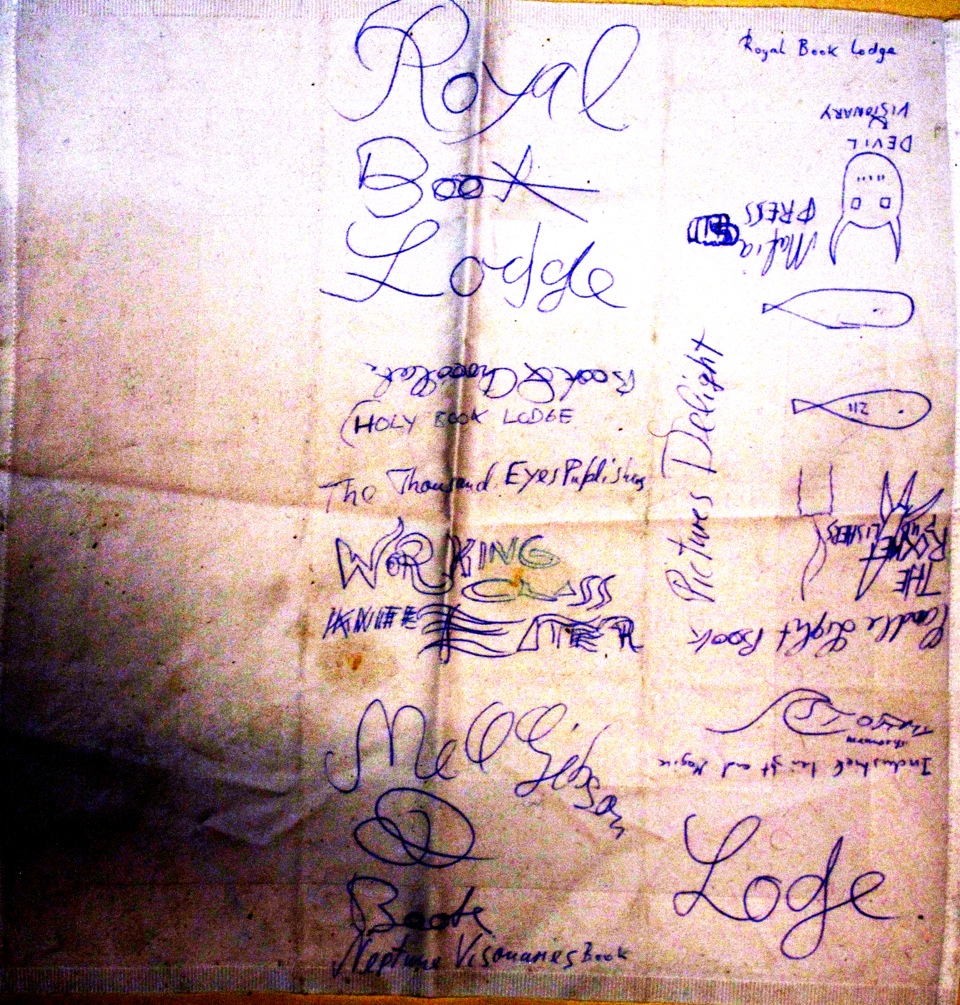 , Berlin, 2012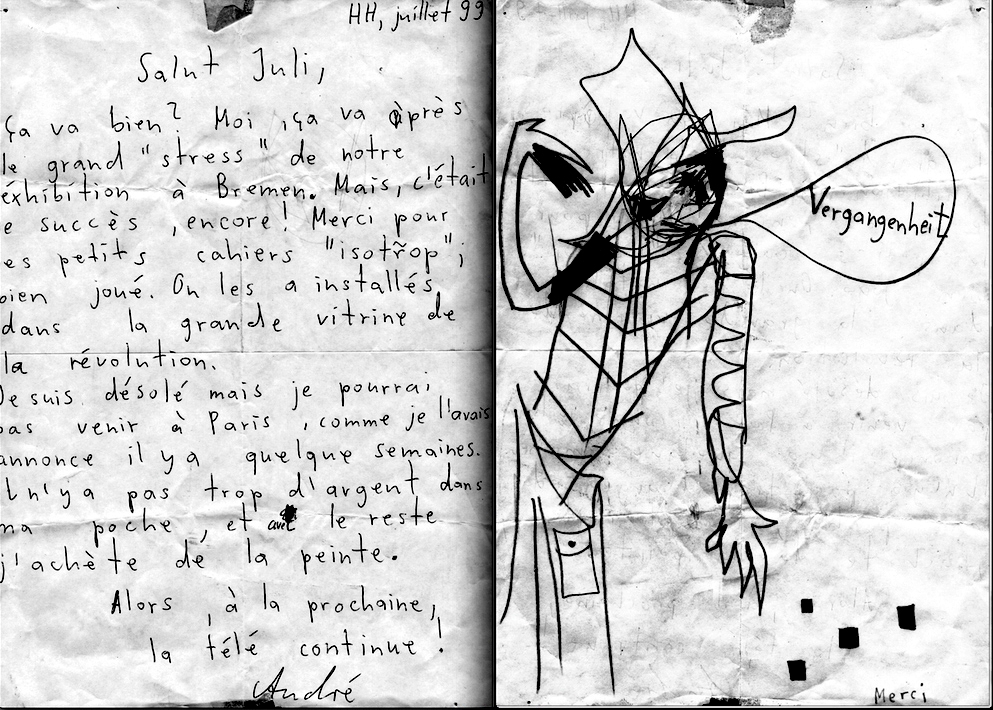 André Butzer, 1999
Jonathan Meese, 2005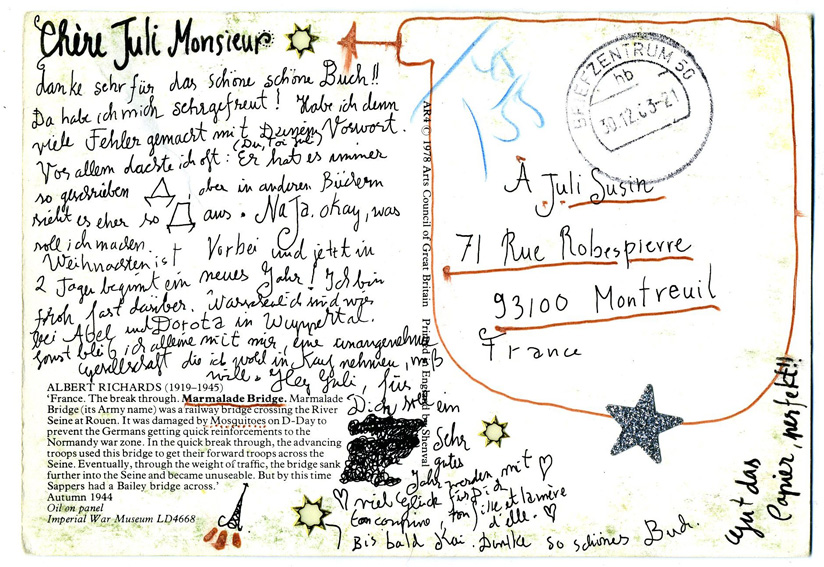 , 2003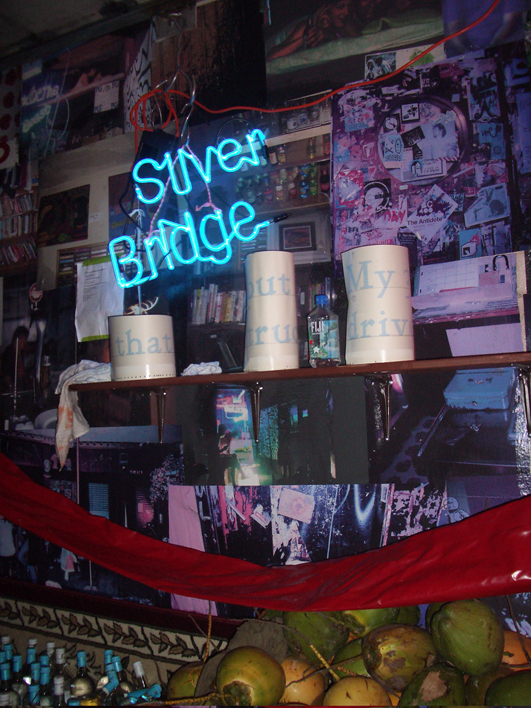 Jason Rhoades, Los Angeles, 2005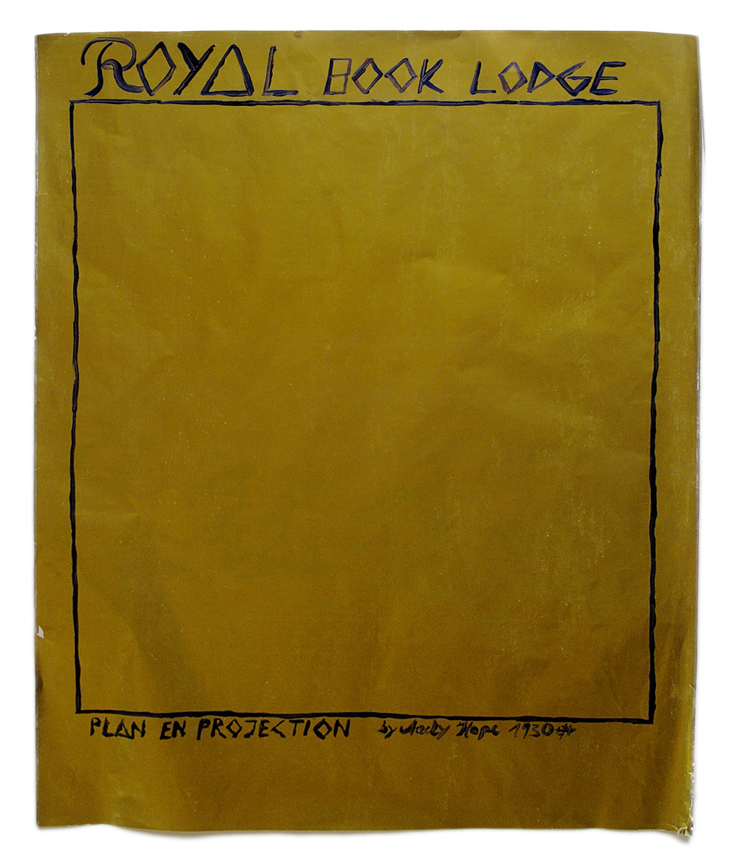 Andy Hope 1930, Marseille,2015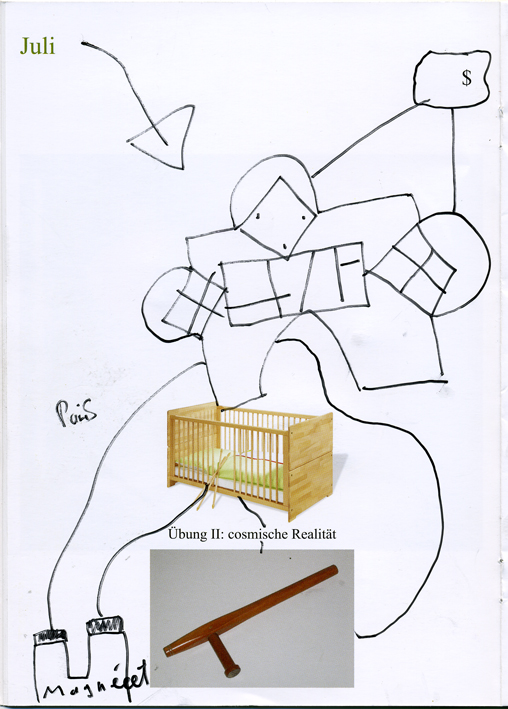 Philipp Schwalb
Raisa Aid, Praguay, 2014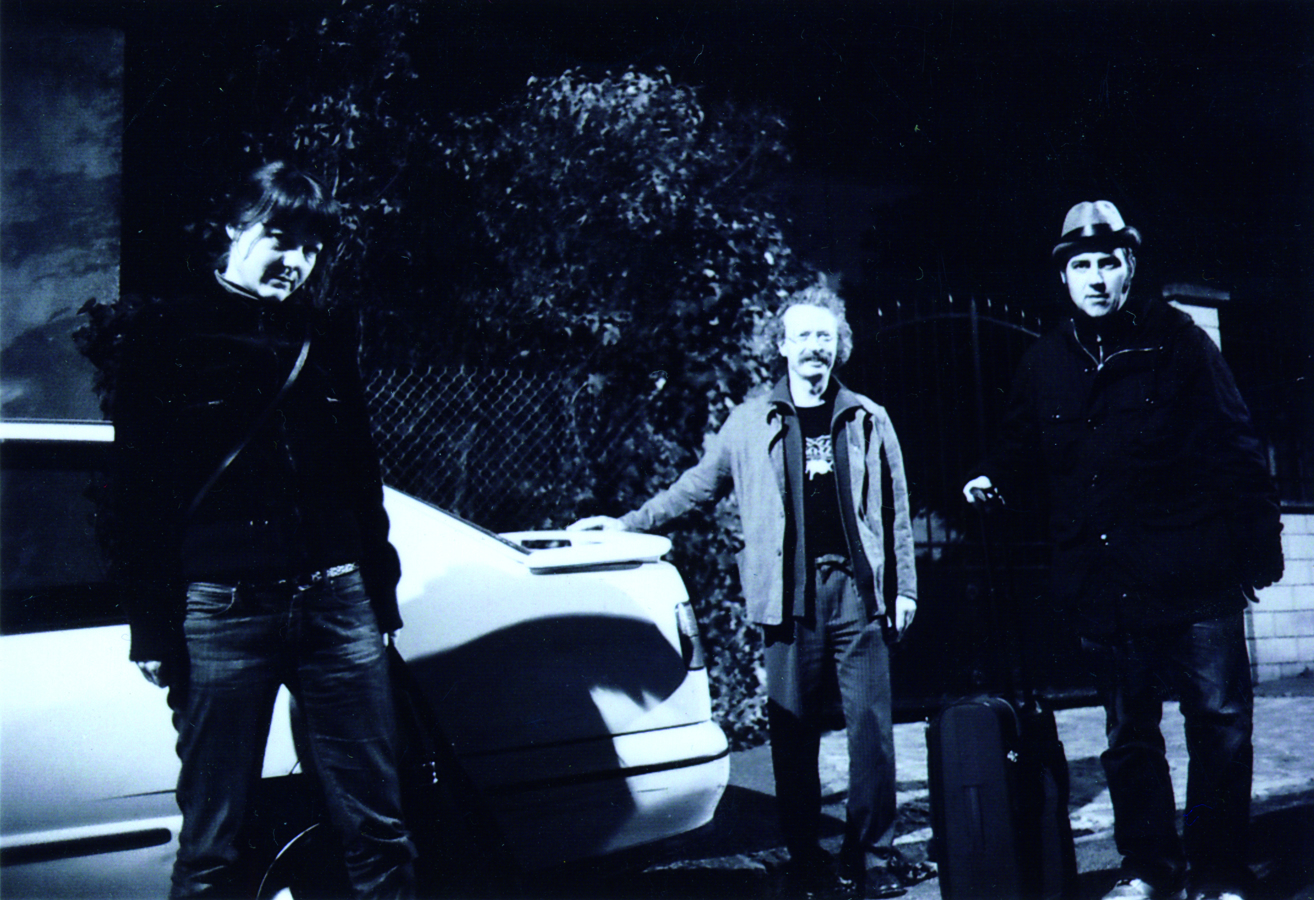 Andy Hope 1930, Esther Buss and Alain de Moyencourt - Montreuil-sous-bois - 2007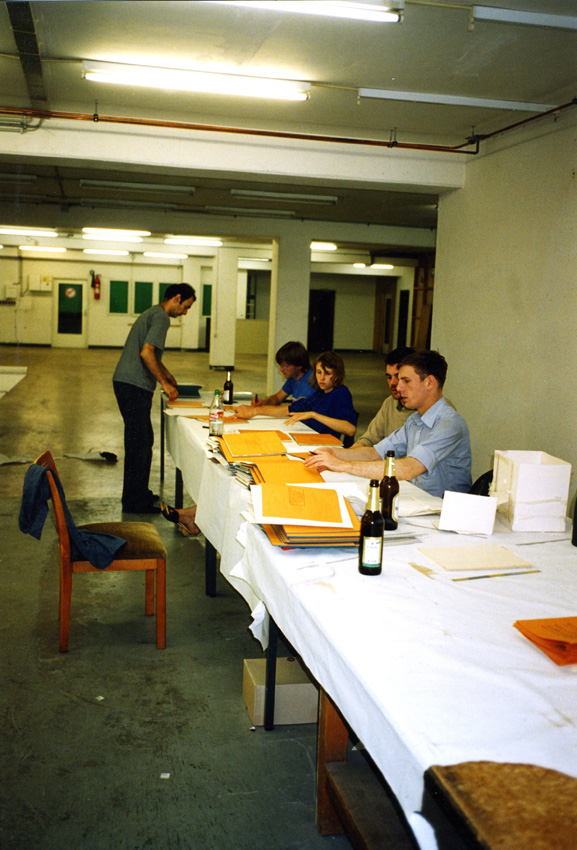 Dorota Jurzak, Kai Althof, Abel Auer, Armin Krämer and Juli Susin. Wuppertal, 2003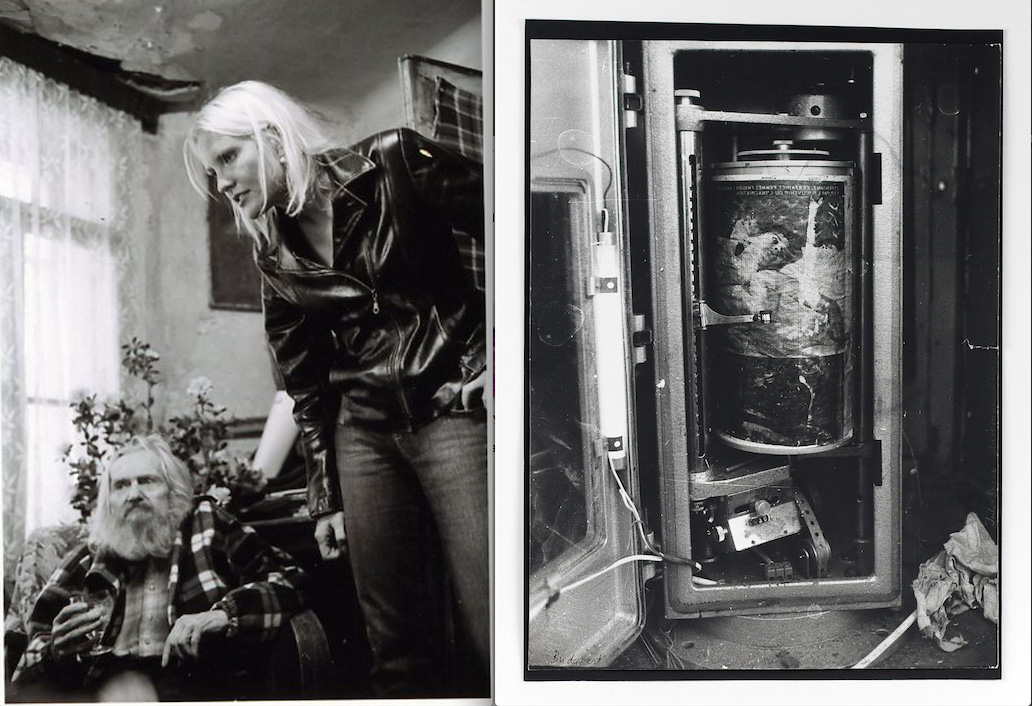 MiroslawTichy, KAtjka, KIjov, 2006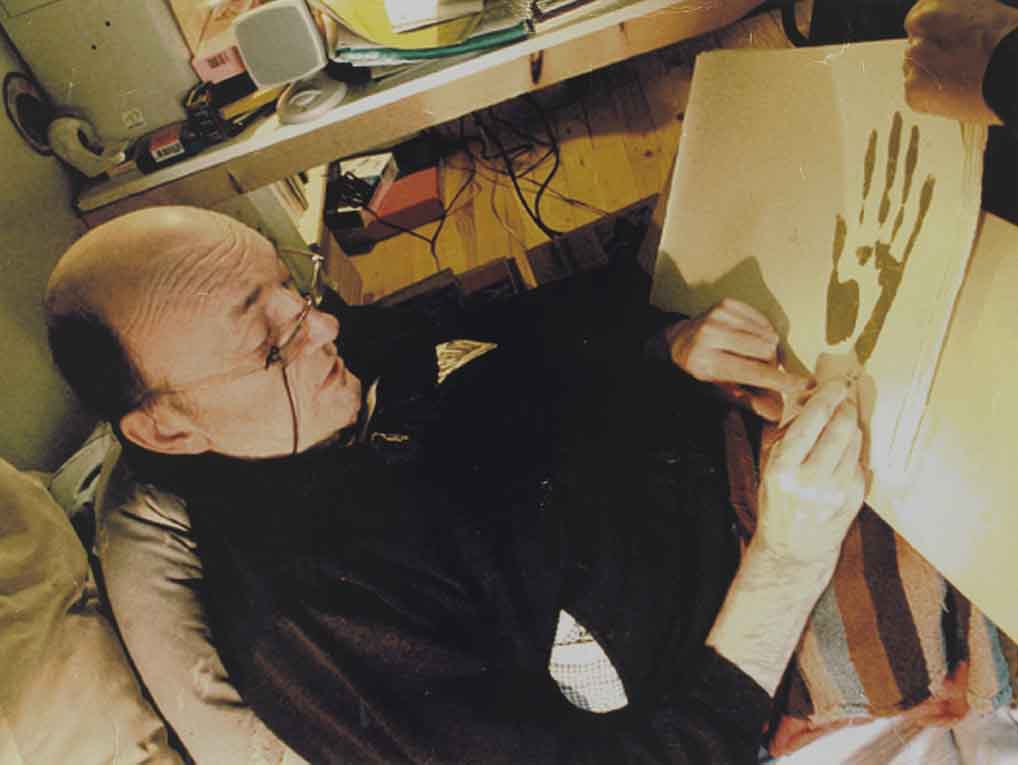 Ralph Rumney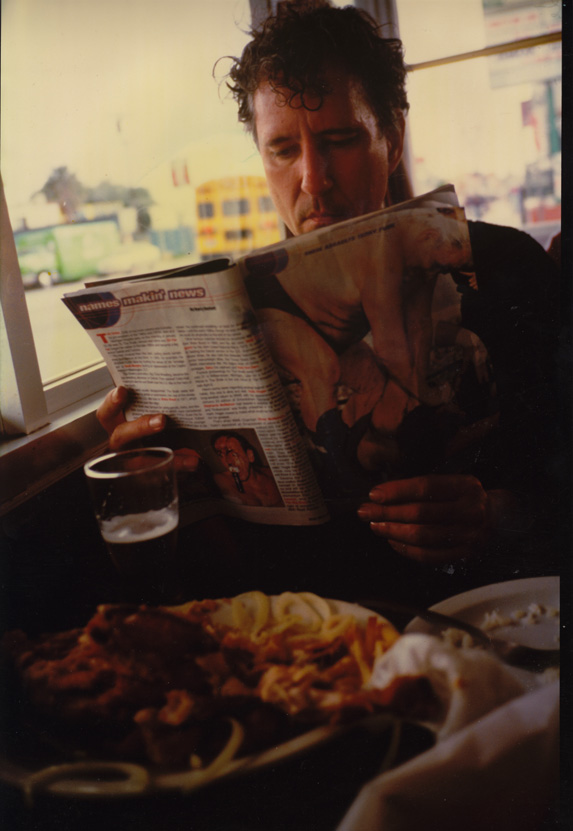 Raymond Pettibon, Los Angeles, 2003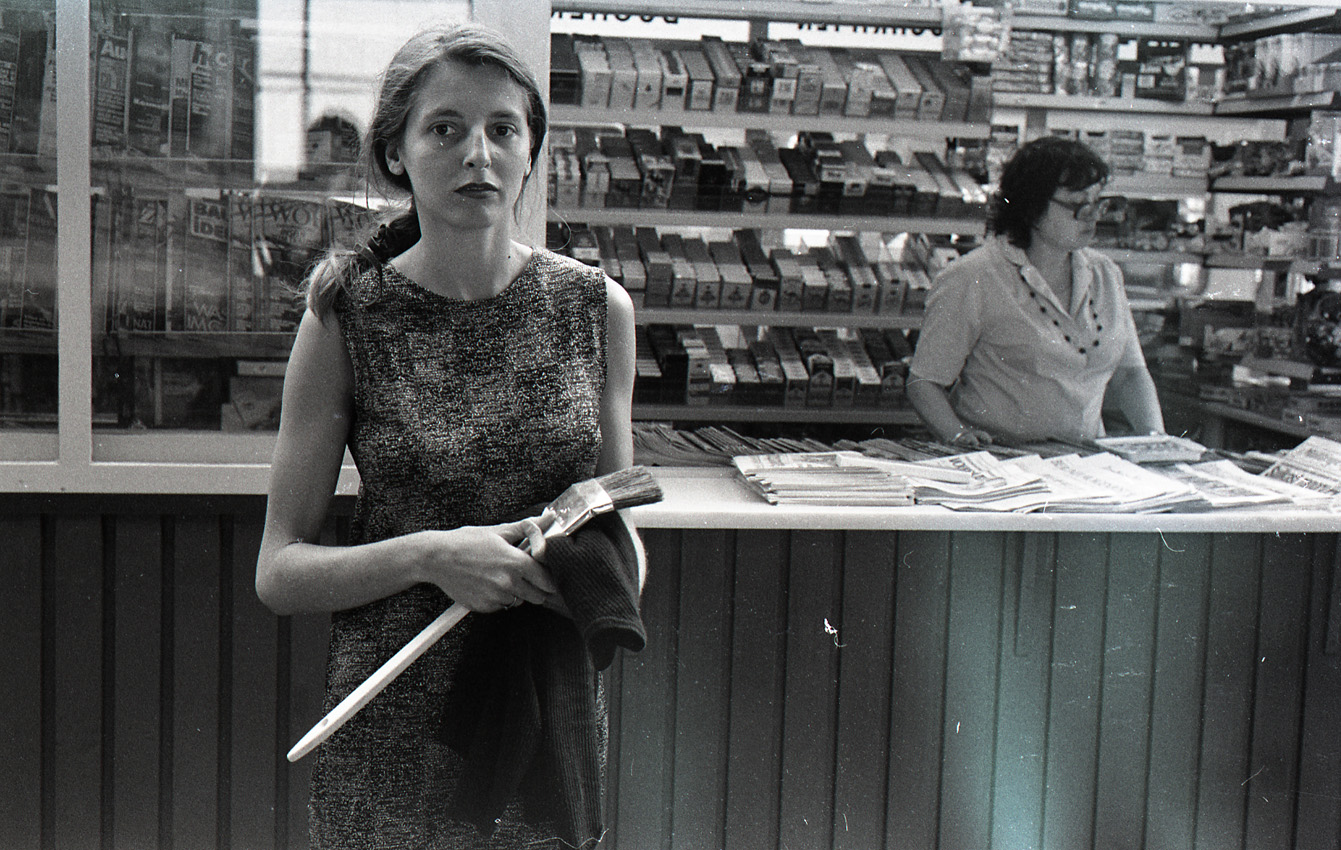 Veronique Bourgoin