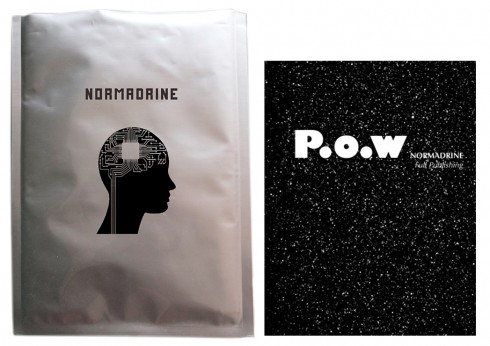 листать страницы
Художественный директор Véronique Bourgoin
художники Véronique Bourgoin, Julien Leslé
Издательство : Royal Book Lodge
Год : 2014, Париж (Монтрей)
Тираж 500 copies
Ограниченный тираж : 50 copies numbered and signed.
Normadrine
This edition limited to 50 copies realized by Véronique Bourgoin with Julien Leslé presents the film Normadrine on a stick screen printed with a poster, a photo novel and a fac simili of the original story. A serie of 7 photos are specially printed on Kodak paper. Each of the copies contains a photography signed, from this series. The whole is put under an envelope mylar silk-screened by Les Démons, signed by the authors and numbered from 1 to 50.
P.O.W photo novel by Véronique Bourgoin, edited by Eva Houzard from the film Normadrine by Véronique Bourgoin and Julien Leslé. Printed in 500 copies on Stipa press in Montreuil. 50 copies for the special edition Normadrine, have been stamped, numbered and signed.