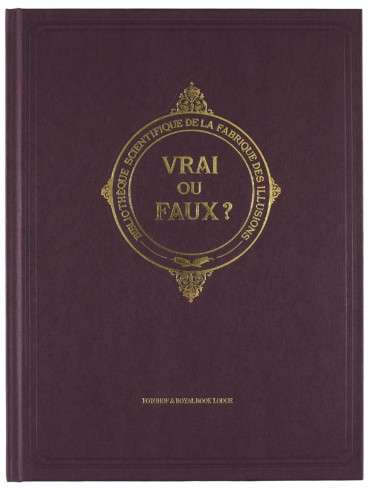 листать страницы
Текст : Ursula Panhans-Bühler. Interview par Bernard Marcadé.
Издательство : Trilingue Anglais - Français - Allemand
Издательство : Fotohof & Royal Book Lodge
Год : 2013, Зальцбург, Париж (Монтрей)
Формат : Act I 21 x 28 cm, Couverture dure - Act II 32 x 47 cm, Couverture souple.
колличество страниц : Act I 194 - Act II 60
Тираж 1 500 exemplaires.
Ограниченный тираж : 99 exemplaires numérotés et signés.
Vrai ou Faux ? Act I
Act I with works by: Julia Abstädt, Antoine d'Agata, Reza Azard, Bachelot Caron, Véronique Bourgoin, Linda Bilda, Fredi Casco, Joan Fontcuberta, Alberto Garcia Alix, Gelatin, Sara Glaxia, Gudny Gudmundsdóttir, Les Hole Garden, Alison Jackson, Adolfo Kaminsky, Erik Kessels, Martin Kippenberger, Paul Kooiker, Lutz Krüger, Jérôme Lefdup, Anne Lefebvre, Jean-Louis Leibovitch, Jochen Lempert, Boris Mikhailov, Judith Rohrmoser, Hank Schmidt in der Beek, Juli Susin, Bastiaan Van der Velden, Les Yes Men. From the collection Royal Book Lodge : Dick Bengtsson, matali crasset, Guy E. Debord, Andy Hope 1930, Daniel Johnston, Dorota Jurczak, Charlet Kugel, Jonathan Meese, Raymond Pettibon, Ralph Rumney, Storwal, Miroslav Tichy and SMACKS by Fabienne Radi published by Boabooks.
This edition designed by Véronique Bourgoin documents the installations «Vrai ou Faux ?» shown between 2010 and 2013. It groups together works from artists and the archives from Fabrique des Illusions in an intimate space like a «trompe l'oeil», recreating private lounges.
A special edition, designed by Juli Susin, realized in 200 copies, contains both volumes and their copies put in a clamshell box.
Act II with the archives from the Atelier Reflexe and Works by: Milou Abel, Begüm Alaybeyoglu, Maria Aya, Julian Baron, Flore Baudelot, Manuela Böhme, Kaspars Breidaks, Sophie Carlier, Inga Erdmane, Faustine Ferhmin, Bernhard Füreder, Josquin GF, Rodrigo Gomez Reina, Evita Goze, German Gutiérrez, Nicolas Haro F. Cordoba, Mona Hermann, Charlotte Hjorth-Rohde, Yanis Houssen, Kumral Kepkep, Janis Klimanovs, Dimitris Koromilas, Valérie Loron, Chryssoula Mamoglou, Christopher Mavric, Efthimis Mouratidis, Tomas Murube, Bjargey Olafsdottir, Christina Papafragou, Constantin Paschou, Sophie Pölzl, Phila Primus, Thanassis Raptis, Marjolijn Rijks, Birgit Rinagl, Ilke Sahin, Marie-Hélène Sauner, Sandra Schmalz, Markus Sigl, Judith Stehlik, Jeanne Susin, Elif Temizer, Thomas Thomell, Sarah Toumayan, Çaglar Tozluoglu, Gamze Tozun, Esra Ural, Annegien van Doorn, Yedras Vargas, Margot Wallard, Nicole Weniger, Lee Wing Ki, Hakan Yasar, Elif Yilmaz, Antoinette Zwirchmayr et invités : Tato Olivas, Man by Men, Ivo Kocherscheidt, Joseph Zekoff and SMACKS by Fabienne Radi published by 2011.
This edition designed by Véronique Bourgoin, under the shape of a daily newspaper, put together the archives from the Atelier Reflexe; with a selection of images taken during the workshops «Vrai ou Faux ?».
Interview of Véronique Bourgoin by Bernard Marcadé and a text by Ursula Panhans-Bühler